Disneyland has the best corn dogs, sorry Disney World, it's true, though the corn dog bites from Casey's Corner are outstanding. Anyways, with the parks closed there is nothing I wanted more than a corn dog at home. They honestly aren't hard to make and they fry up quickly, so it's a pretty easy meal. So when you can't visit the parks you can always make visit via your kitchen.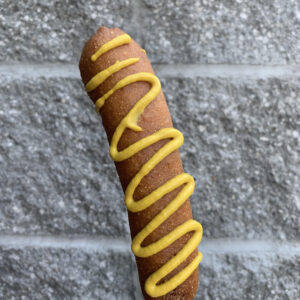 Disneyland Corn Dogs Copy Cat Recipe
Bring Disneyland home with this corn dog recipe.
Ingredients
1

cup

all purpose flour

1

cup

cornmeal

2

T

sugar

2

t

baking powder

1/2

t

salt

1

egg

beaten

1

cup

buttermilk

see notes for substitute

2

T

butter

melted

1

quart

canola oil

you can use vegetable oil

8

hot dogs

8

skewers
Instructions
Heat oil over medium heat to 350°, using a thermometer to check the temperature. While the oil is heating assemble corn dog.

Combine flour, cornmeal, sugar, baking powder, and salt in a large bowl and whisk until fully combined.

Add in beaten egg, buttermilk, and melted butter. Whisk until fully combined and all of the dry ingredients are hydrated.

Transfer mixture to tall glass to make dipping the corn dogs easier.

Pat every hot dog dry, it's essential to get all of the moisture off of the hot dog in order for the batter to stick.

Skewer each hot dog, and push the stick about 4/5 of the way up the hot dog, try to keep the skewer in the middle of the dog.

Dip your hot dogs into the batter and twist to coat.

Remove the hod dog from the batter and hold above the cup allowing the excess batter to drip off, it should take about 20 seconds. Batter them one at a time and place directly into the oil.

When your oil is to temperature, fry each corn dog 3-4 minutes, rotating to ensure all sides brown evenly. You can fry 2-3 dogs at a time, just don't overcrowd your pan as it will cause the oil's temperature to drop rapidly.

Once corn dogs are cooked, place on a wire drying rack and allow to cool slightly.

Top with your favorite corn dog toppings and enjoy!
Notes
If you don't have buttermilk, use 1 cup of milk and 1 tablespoon of white vingar. Combine the two, allow the mixture to sit five minutes and use that in place of the buttermilk.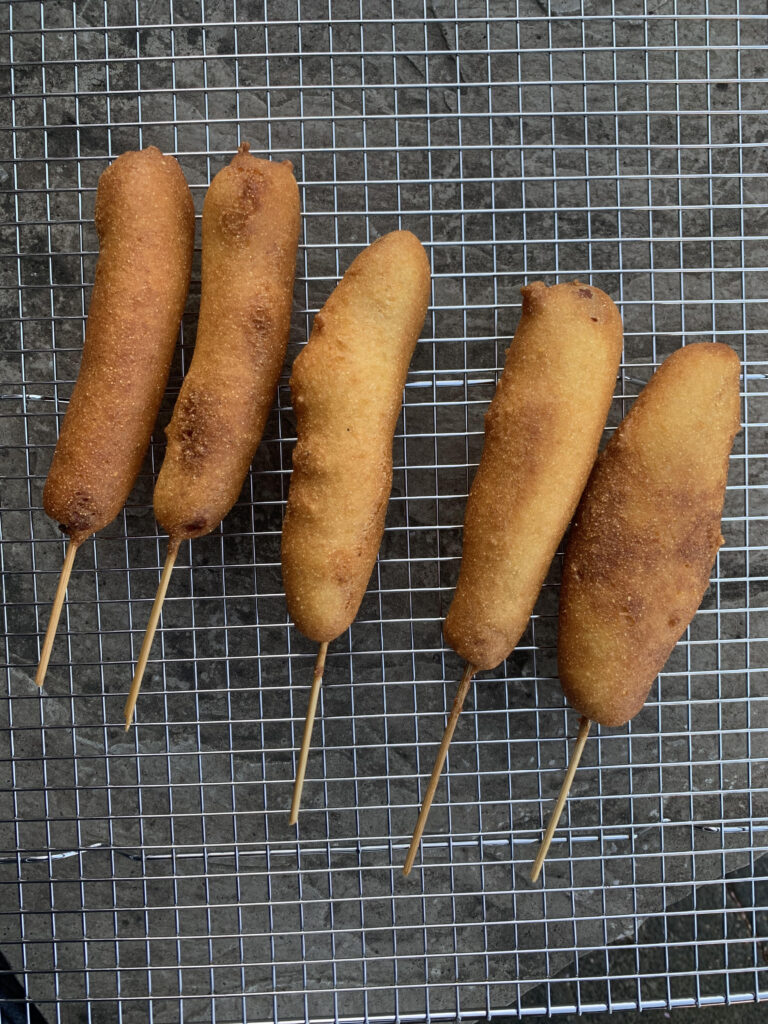 What Disney recipe do you want me to recreate next? Also, don't forget to tag me on social media if you create these corn dogs at home, I love seeing what you guys make in the kitchen!