It is time for another festival in EPCOT, as the 2023 Flower and Garden Festival kicks off on March 1st. There are over 50 new items coming to the festival this year, as well as a bunch of returning favorites.
One way I budget for the festival is by using my Festival Budgeting Spreadsheet – it breaks items down by booth and allows you to easily set a budget for when you visit the festival. Simply put in how many of any item you plan on ordering, and scroll to the bottom for a grand total! (Menu items are currently in the spreadsheet, and I will update them with prices when they are released!)
I will be in EPCOT on the first day of the festival, so come back to the original spreadsheet to get my ratings on all the food and drink items I try at the festival!
Check Out My Preview of the New Menu Items
EPCOT's Flower and Garden 2023 Budgeting Spreadsheet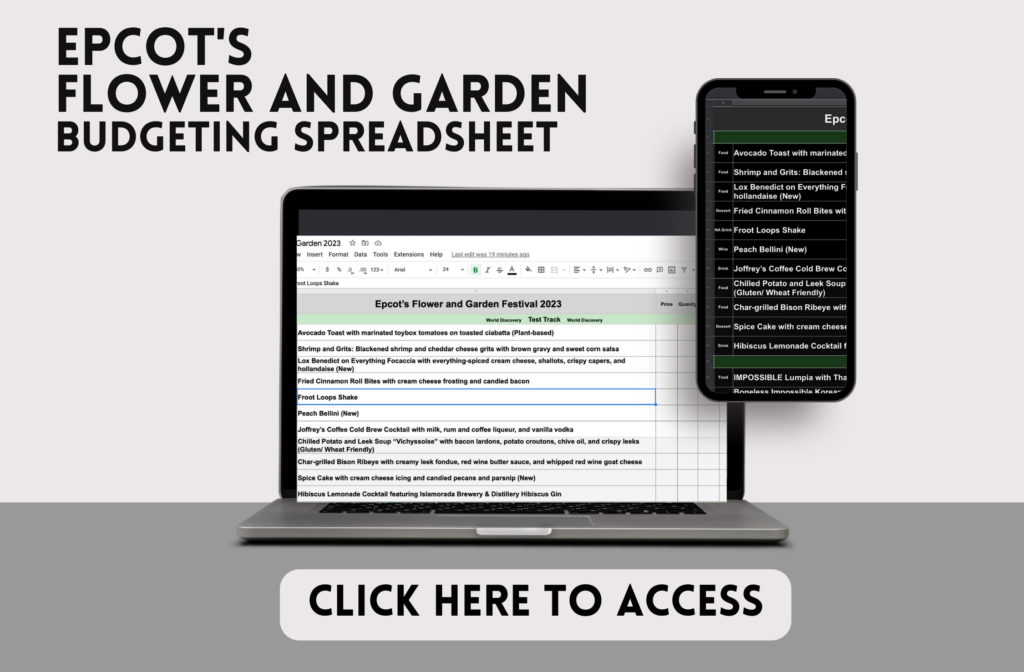 You can also access the spreadsheet by clicking here. To use this spreadsheet you need to make a copy, simply do that by going to file > make a copy, and you will be able to fill in your budgeting needs!
Happy Festival-ing, will you be heading to EPCOT for the Flower and Garden Festival in 2023? Be sure to come back for a full breakdown of my favorites from this year's festival!
You also might like…
Shop my Disney Park Essentials, the festivals can be super busy, and this is what I always bring with me into the parks.