EPCOT's Flower and Garden Festival has kicked off in EPCOT. This festival runs through July 5th, 2023, and features outdoor kitchens with dishes throughout the park! Admission to the festival is included with your park ticket, and food and beverages can be purchased at each of the booths for an additional price.
We tried everything the festival has to offer on day one, and I am here to give you my thoughts on the best dishes. If you scroll to the bottom of this page there is also a printable PDF guide of my top 12 dishes!
If you are planning on going I also have a budgeting spreadsheet, simply put in what you want to eat and it will do all the budgeting for you.
12 Best Eats of EPCOT's Flower and Garden Festival 2023
Char-Grilled Bison Ribeye
This was back on the menu again this year, and it delivered like it did last year. This is one of the best-flavored steaks I have had in a long time, the combination of the artichokes and the red wine butter area actually perfection. The steak is grilled right in front of you and doesn't taste gamey, I could not recommend this one more.
The one downfall of this dish – the menu here changes and you only get it until April 8th.
Description: with creamy leek fondue, red wine butter sauce, and whipped red wine goat cheese
Location: EPCOT Farmers Feast
Price: $8.25
Rating: 10/10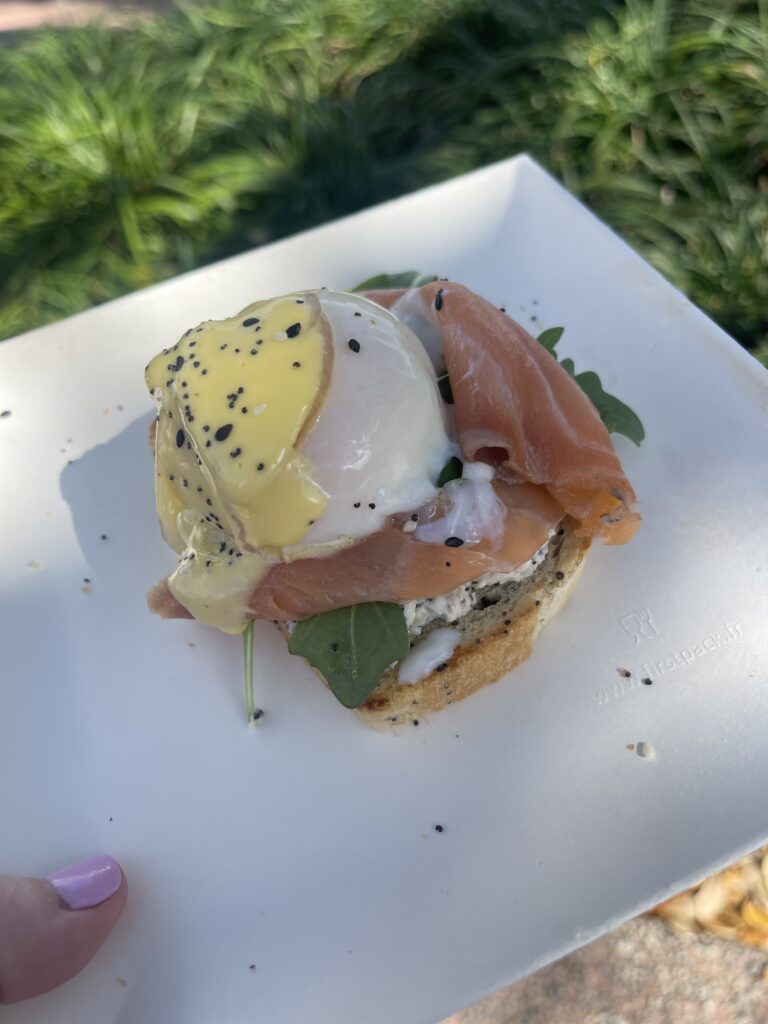 Lox Benedict
Whoever came up with the name "Brunch-COT" is a genius, and this dish didn't disappoint. The egg was absolutely phenomenal, the lox was delicious, and everything bread was well-seasoned. My only complaint would be the fact the focaccia was more the texture of rye bread, but overall I wouldn't even really complain about that.
Description: on Everything Focaccia with everything-spiced cream cheese, shallots, crispy capers, and hollandaise
Location: BRUNCHCOT
Price: $7.50
Rating: 9/10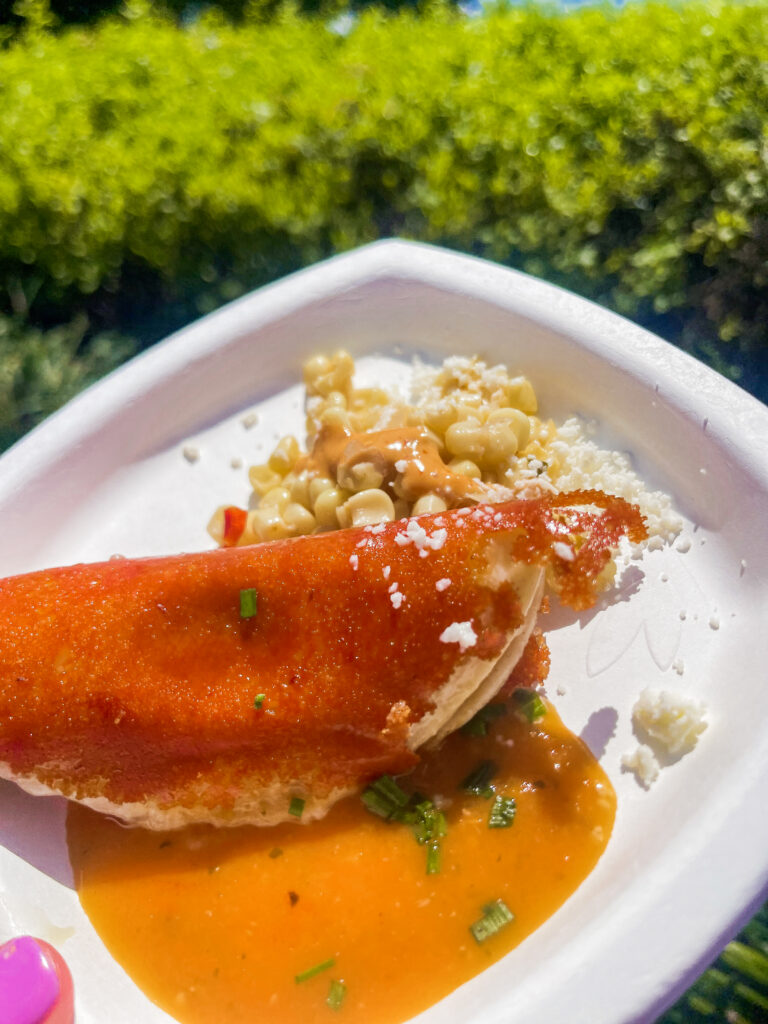 Taco Vampiro
I adored this one last year, and I am so glad it is back this year. Did I call it the Taco Vampirina? Yes. But it is one of the best dishes Mexico has put out. Yes, it is small, but it packs a lot of flavor, the cheese on the outside of the shell is perfectly crispy and the corn side is phenomenal.
Description: Barbacoa Beef in a Corn Tortilla with crispy grilled monterey jack cheese, salsa ranchera, and esquites
Location: Jardin de Fiestas (Mexico)
Price: $8.75
Rating: 9/10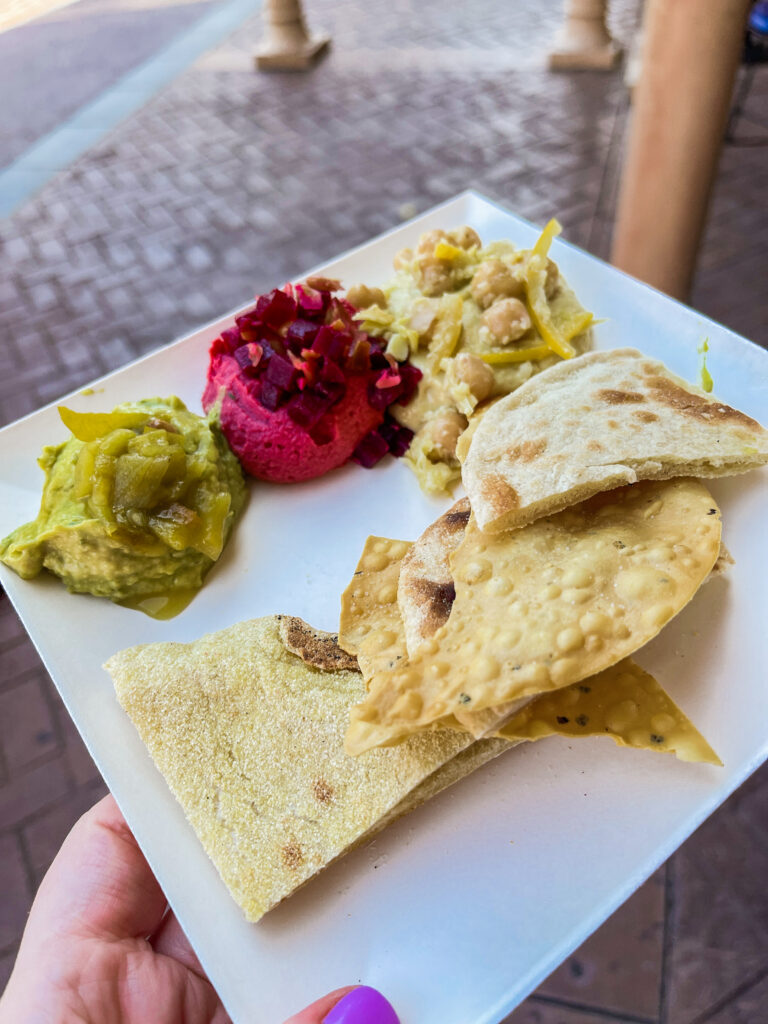 Hummus Trio
For a while Morocco has been playing it safe with the same dishes over and over – it is finally refreshing to see something new on the menu. This hummus trio doesn't disappoint, at just about 5 bucks it's one of the better values at the festival.
The colors are bright and bold, and so are the flavors. My favorites are traditional, which includes whole chickpeas on the top, and the red beet and black garlic hummus, it's well-balanced and delicious.
Description: Traditional Hummus, Red-Beet-and-Black-Garlic Hummus, and Avocado-Herb Hummus, served with Moroccan Bread and Crispy Papadam
Location: Tangierine Cafe
Price: $5.25
Rating: 8.5/10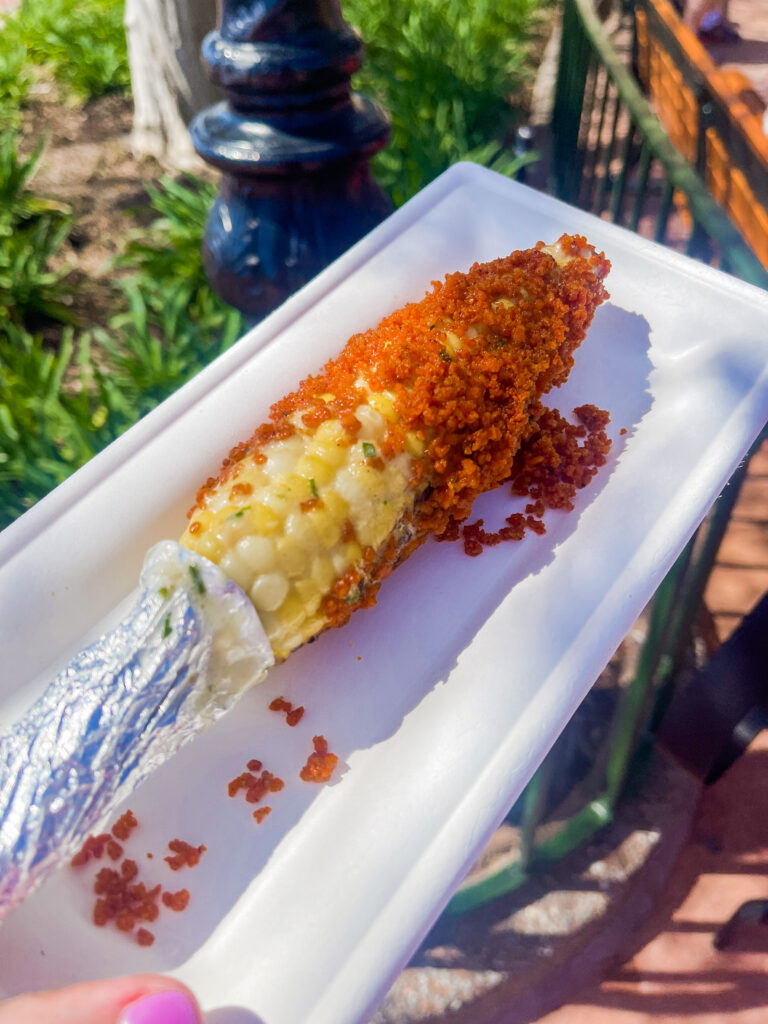 Grilled Street Corn on the Cob
There is an entire grill station devoted to grilling corn at this booth, and it really shows. The corn was cooked perfectly, and the spicy corn chips added a lovely amount of kick. Plus, if you are plant-based you are in luck, this one is vegan!
Description: with Savory Garlic Spread and Spicy Corn Chips
Location: Florida Fresh
Price: $5.75
Rating: 8/10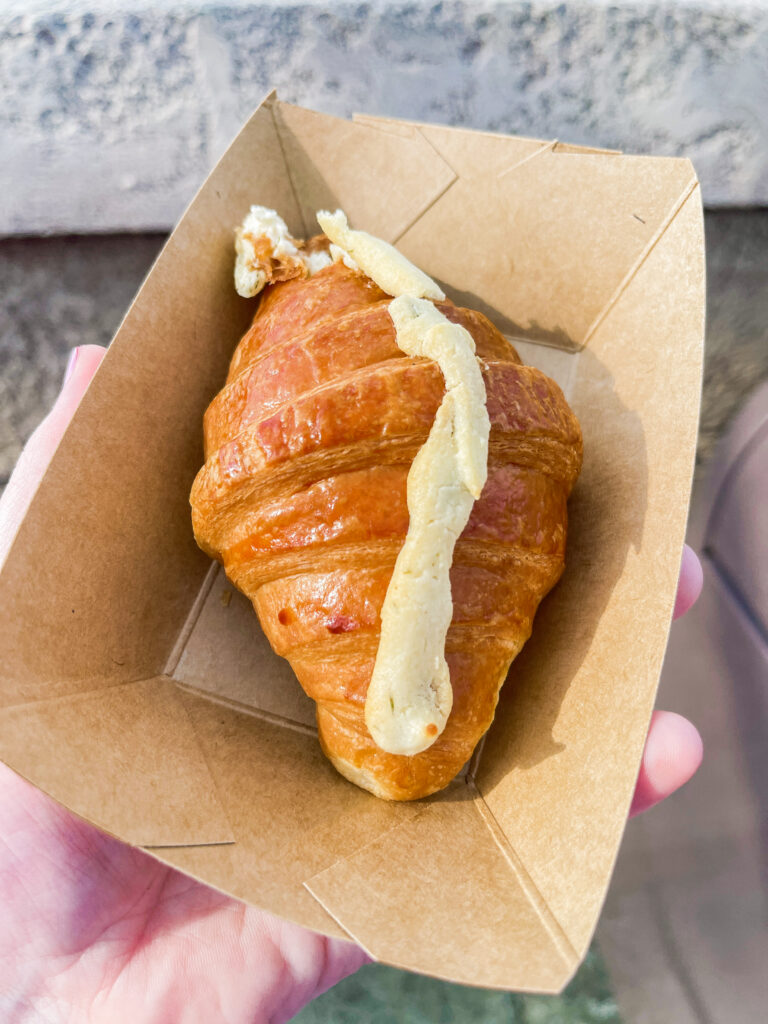 Croissant
This dish is a beautifully warmed croissant stuffed to the brim with an herb and roasted garlic goat cheese. This one will continue to be high up on my list and would be perfect to enjoy when the sun sets in EPCOT.
Description: with goat cheese, herbs, and roasted garlic
Location: Fleur de Lys
Price: $6.75
Rating: 8.5/10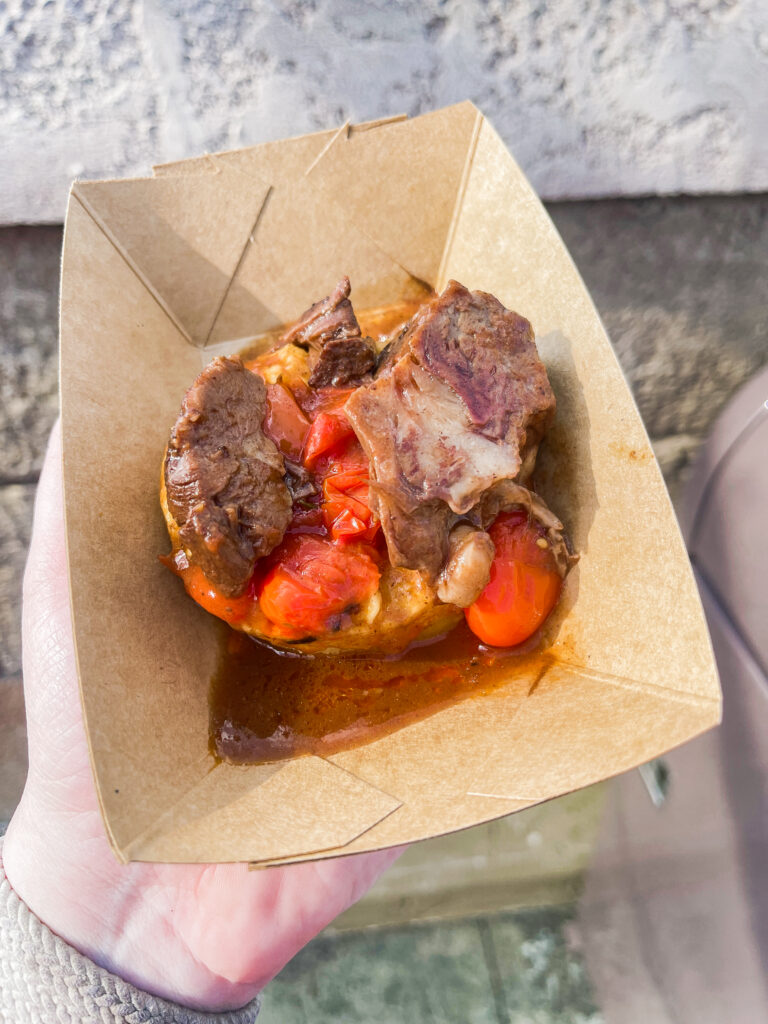 Daube de Boeuf à la Provençal
This dish is amazing, the beef is unbelievably tender, and the tomatoes add an excellent flavor. I am not sure what was going on with the gnocchi, this seemed like more of a polenta, maybe that will change later in the festival, but I am not mad at it.
Description: Provençal-style braised beef, rosemary tomato, and niçoise gnocchi
Location: Fleur de Lys
Price: $7.55
Rating: 9.5/10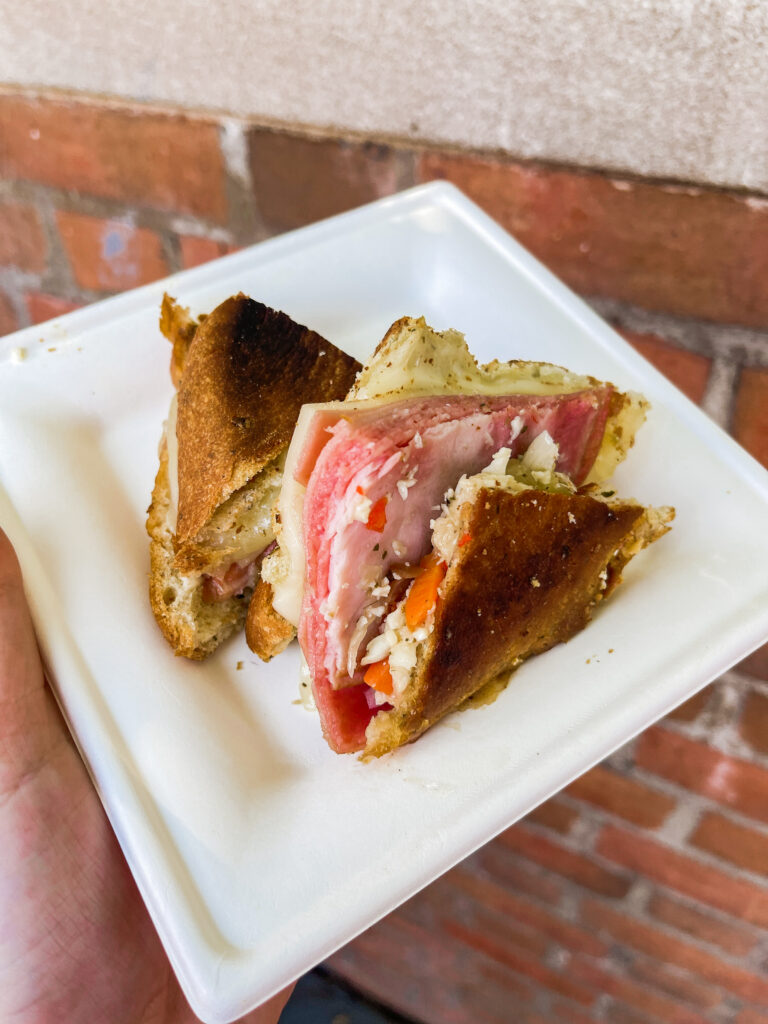 Muffuletta Panini
This should be called a 'Spicy' Muffuleta Panini as it packs more of a kick than I expected. Overall, the flavors are great, I love this version is in panini form as it gives it a bit of a crispiness.
Description: with ham, salami, mortadella, provolone, and Swiss with olive salad
Location: Magnolia Terrace
Price: $6.00
Rating: 7.5/10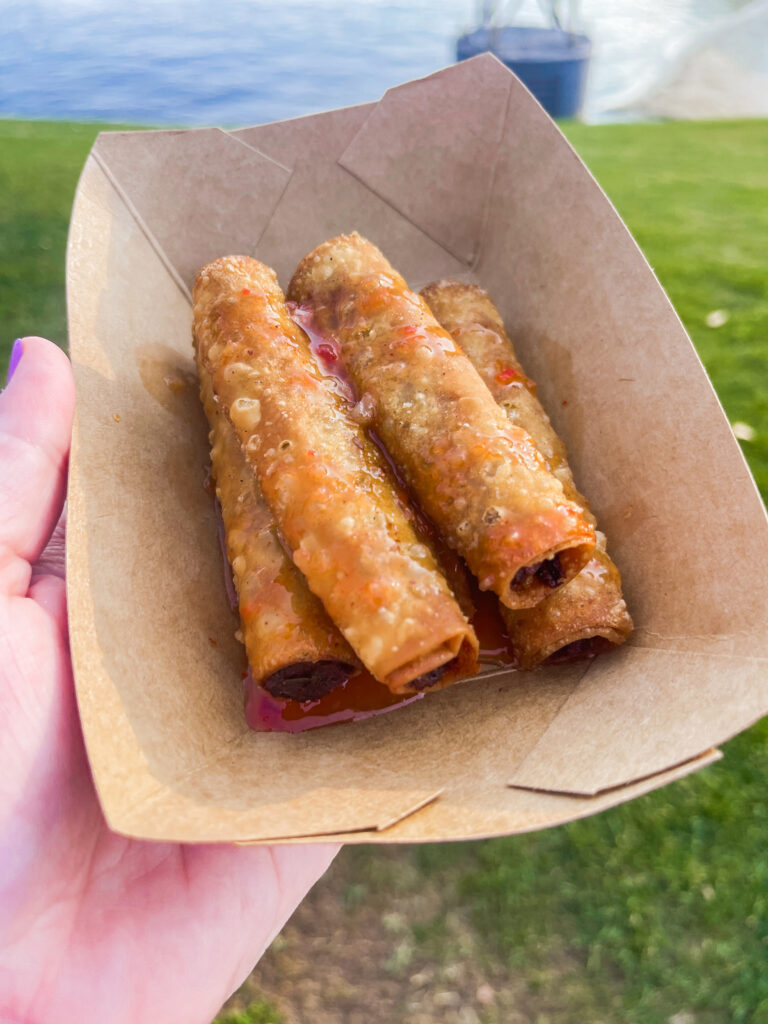 IMPOSSIBLE Lumpia
Honestly, I am torn with this one. The flavors were great, and the sauce is outstanding – the lumpia, however, were a little limp. I wish the sauce came on the side, as I think it would help keep them a bit more crispy. But at $5.50, this is a great deal and perfect for almost anyone.
Description: with Thai sweet chili sauce
Price: $5.50
Rating: 7.5/10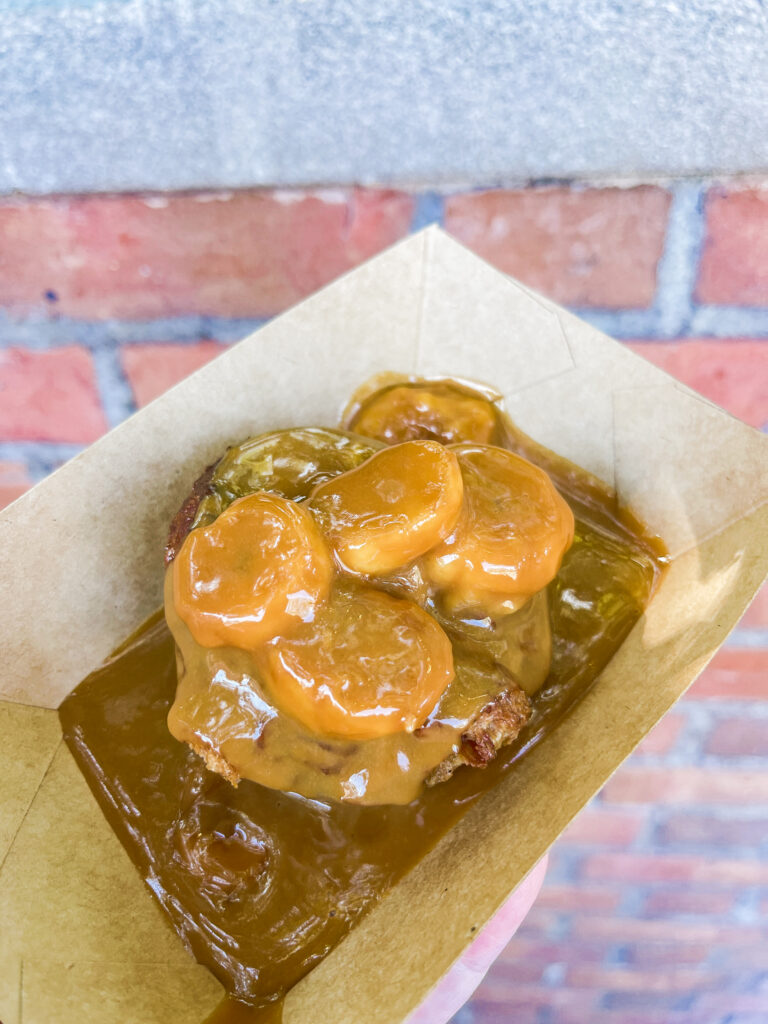 Bananas Foster Bread Pudding
This bread pudding is drenched in a Whiskey sauce and my oh my it is good. My lower score is that the bread pudding was a bit soggy and really didn't stand up to how incredible the sauce was, but overall, I would still highly recommend it.
Location: Magnolia Terrace
Price: $5.50
Rating: 7/10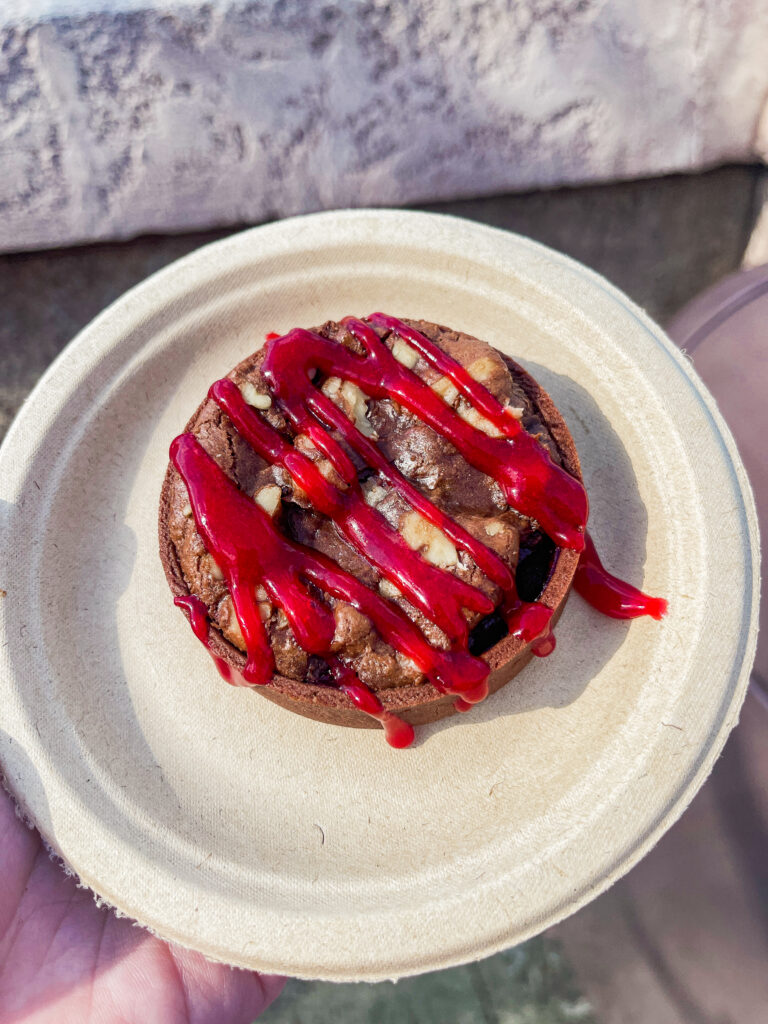 Tarte Chocolat Mogador
Honestly, I never expected to have so many items from France to be on this list, usually, they are overpriced and not amazing. This is an outstanding tart, with a gooey chocolate brownie filling. If you are a chocolate lover, you don't want to skip this one.
Description: Chocolate tart with Valrhona single-origin chocolate brownie, walnuts, and raspberry coulis served warm
Location: Fleur Dr Lys
Price: $8.50
Rating: 9/10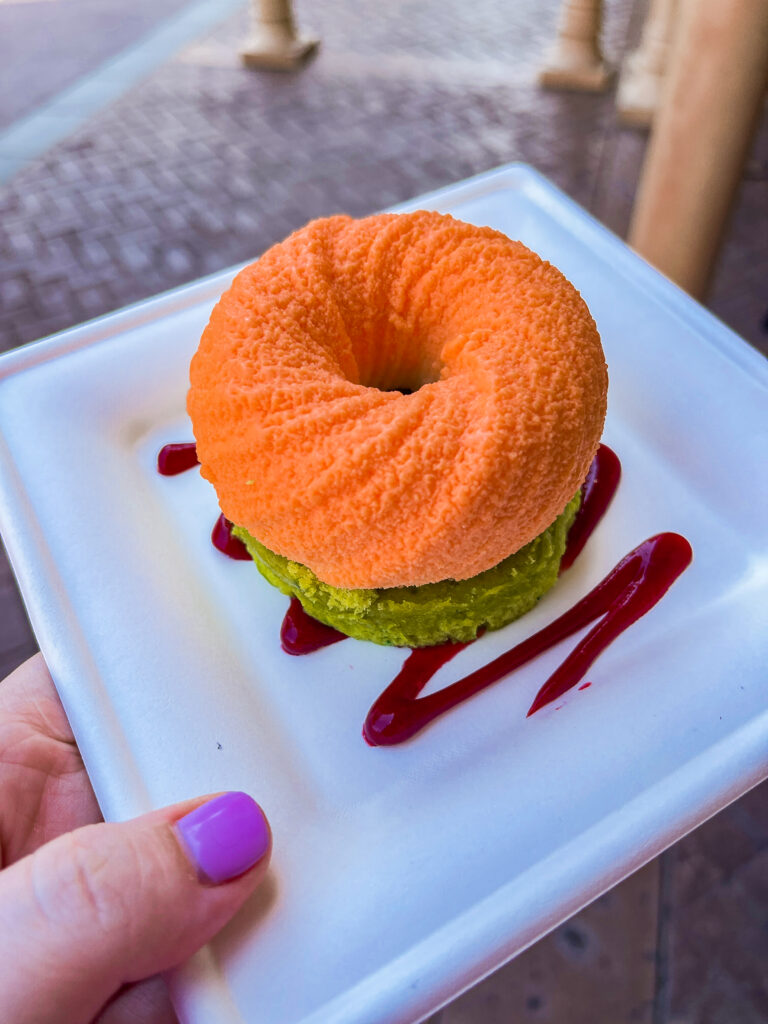 Orange Blossom-Saffron Cake
This is a work of art in so many ways. The top was almost like a white chocolate mousse, which I usually hate that vibe in dome cakes, but this somehow worked. The bottom was a lovely pistachio cake, and they paired perfectly together.
Location: Tangierine Cafe
Price: $5.00
Rating: 8.5/10
Best of the Fest Printable
Heading to the fest and want to bring this list along with you? No worries, I have got you covered with a FREE printable! It shows you everything at the fest, and where to find it.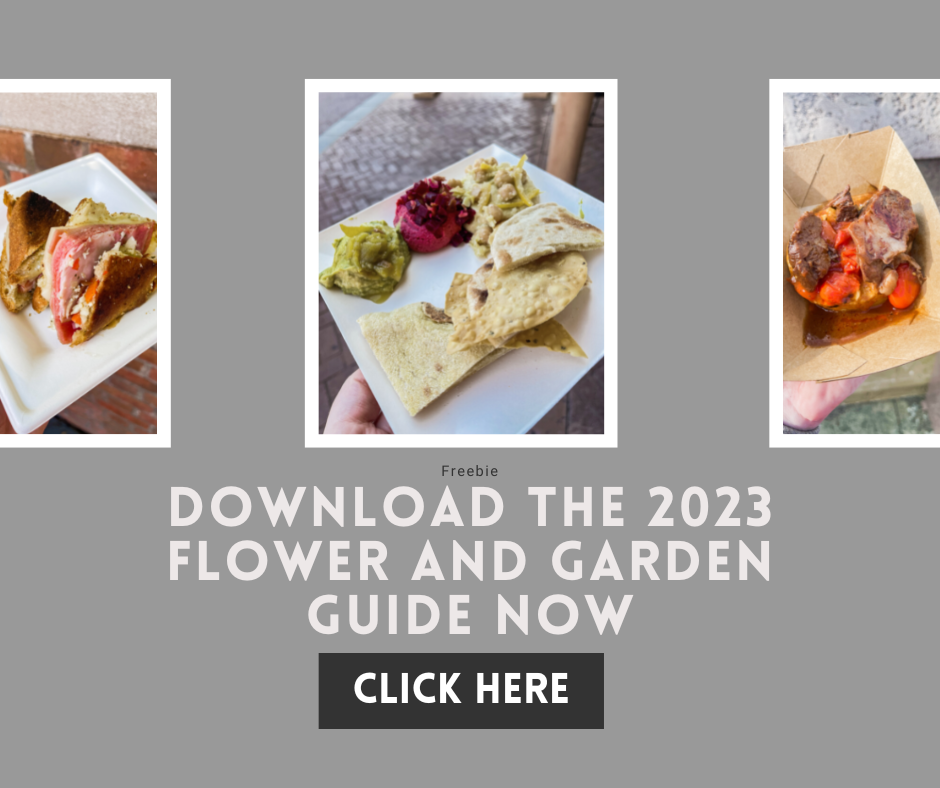 Happy Festival-ing, will you be heading to EPCOT for the Flower and Garden Festival in 2023?
You also might like…
Flower and Garden Budgeting Spreadsheet, because let's be honest, festivals can be expensive and this can help you plan properly.