One of my favorite sweet treats in Magic Kingdom is the Cheshire Cat Tails, which usually can be found at their own kiosk. They are a puff pastry, with sweet cream and mini chocolate chips on the inside, drizzled in some colorful icing. It's the perfect grab-and-go snack, and I love to enjoy mine while people watching those on the teacups.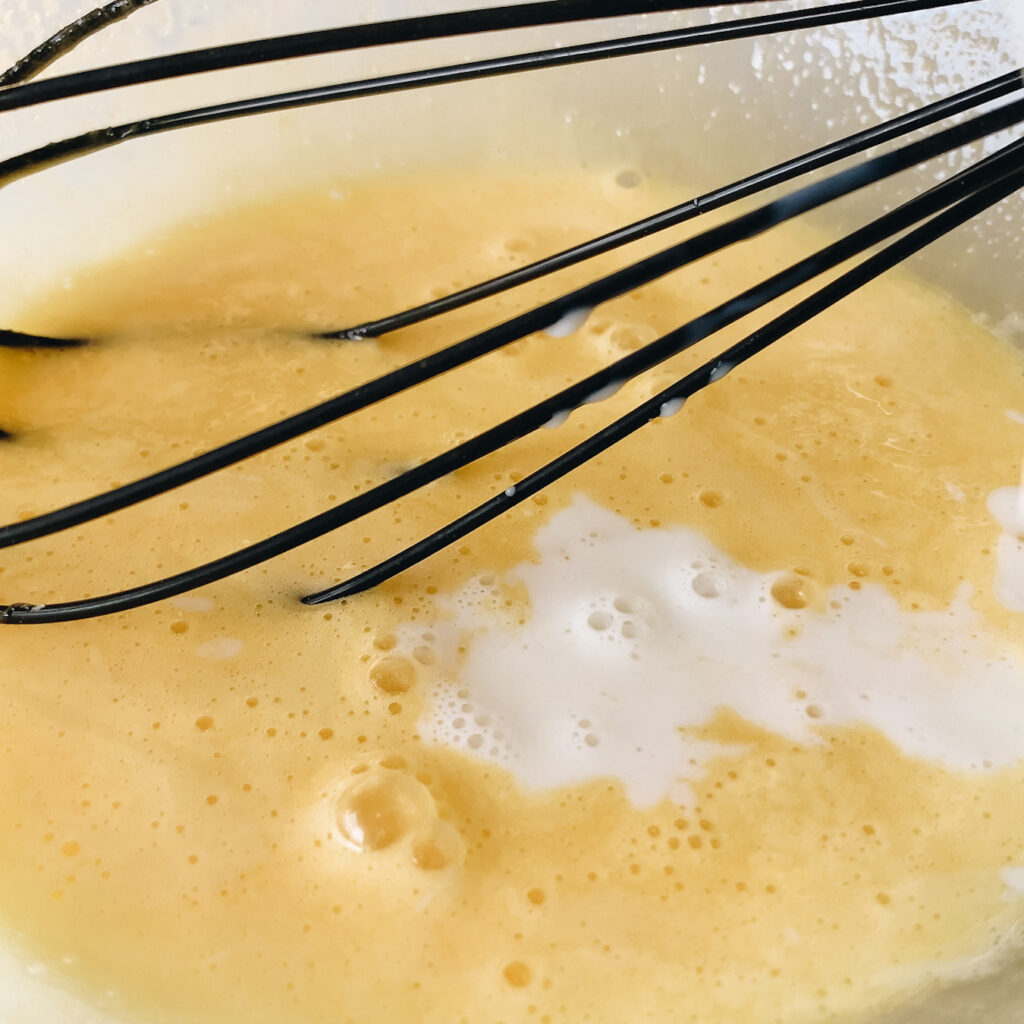 This recipe might seem intimidating, puff pastry, and a crème pâtissière, but I am going to let you in on some easy secrets to make them perfect.
Use frozen puff pastry and let it thaw. My personal recommendation is to move it to the fridge about 4 hours before you need it, this will prevent your pastry from breaking when you try to roll it out. You can thaw them on the counter for about 30 minutes, but you should place them back into the fridge for about 10 before using them because they need to be cold to the touch when you bake them.
Temper your crème pâtissière. I know, this one sounds intimidating, but essentially it is just cream and eggs that make a beautiful silky custard. You need to temper your eggs to prevent them from scrambling and cooking. This just means you need to ladle your hot milk mixture into the eggs, about a spoonful at a time to bring your eggs to temperature.
Cover your crème pâtissière when chilling. When chilling your mixture press plastic wrap onto the surface of the crème pâtissière, you don't want to custard to form any type of film on the top.
Mini Chocolate Chips. You can use normal chocolate chips, but the mini ones really work well in this.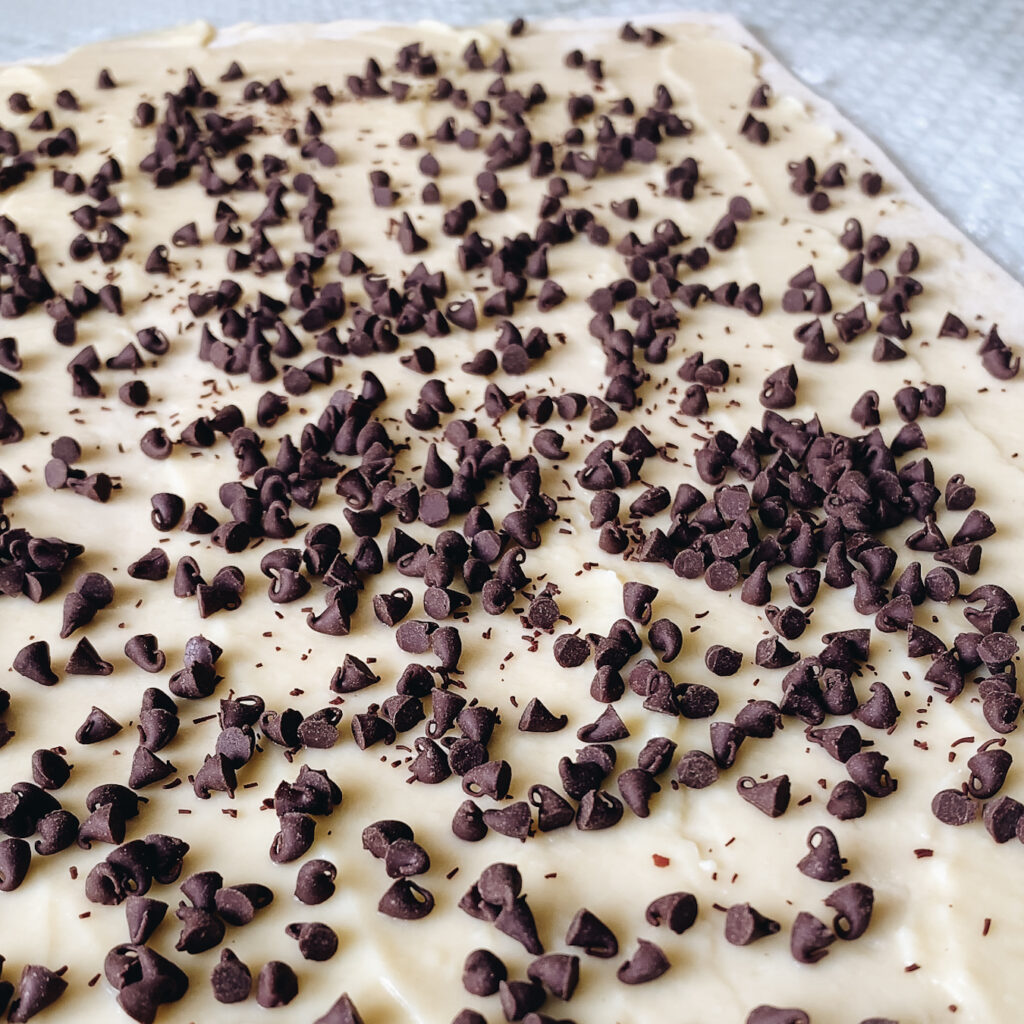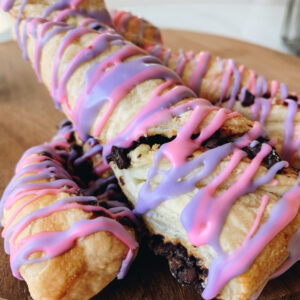 Disney Parks Inspired Cheshire Cat Tails
You can find this sweet treat over in Fantasyland in Magic Kingdom, and there's also is a version over in Animal Kingdom.
Ingredients
Creme Patissiere
1 1/2

cups

Milk

1

tsp

Vanilla

1

Egg

1

Egg Yolk

1/3

cup

Sugar

3

Tbsp

Corn Starch
Cat Tail
1

sheet

Frozen Puff Pastry

1/2

cup

Mini Chocolate Chips

1

Egg

beaten
Frosting
1

cup

Powdered Sugar

1-4

Tbsp

Milk

Pink and Purple Food Coloring
Instructions
Creme Patissiere
Start by heating 1 1/2 cups of milk and vanilla over medium heat. ⁠

Combine egg, additional egg yolk, sugar, and corn starch, in a bowl and whisk until fully combined and thick. 

Once the milk has heated but not come to a boil, add about 2 tablespoons of the milk mixture to the egg mixture while whisking, once fully combined add 2 more tablespoons continuing to whisk. Then add the remainder of the milk into the eggs and whisk until fully combined. ⁠

Return mixture to stove and cook over medium heat for about 3- 5 minutes whisking constantly until the mixture is thick.⁠

Cover with plastic wrap and allow it to cool. 
Cat Tail
Defrost frozen puff pastry and roll it out until it about doubles in size. You are going to want to keep it shaped like a rectangle. 

Spread the creme patisserie over the rolled-out dough so it is in an even thin layer.⁠

Sprinkle with mini chocolate chips, or more if that is your thing. ⁠

Fold the dough in half, along the short edge, sort of like a book. ⁠

Cut into 1 1/2 inch strips.

Place on a parchment-lined baking sheet, and twist a couple of times to give it that cattail look, combine beaten egg with a splash of water, and brush onto the top of each pastry. ⁠

Bake in a 400-degree oven for about 20 minutes or until golden brown.⁠
Frosting
Combine powdered sugar, and about 1-4 Tbsp of milk, and whisk until combined. You want to start by adding 1 tablespoon of milk and gradually add more until it reaches the desired consistency. It should be thin enough to drizzle but should hold its shape for a couple of seconds when it falls into the bowl.⁠

 Separate into 2 bowls and color with PINK and PURPLE food coloring, adding more powdered sugar if it becomes too thin. ⁠

Drizzle on icing with a spoon, going back and forth. ⁠