Sleepy Hollow in Magic Kingdom use to sell Churro Ice Cream Sandwiches, they were the perfect combination of Disney Churros and a way to cool off in the Florida heat. Sadly, they took them off the menu, but that doesn't mean we can't make them at home. There is just something about the smell of churros that makes me feel like I am at Disney.
Yes, making churros from scratch can seem daunting. Here are a few easy tips to help your piped churros come out perfect!
Use a churro tip and a piping bag. This dough is thick, so it is worth a couple of dollars of investment. The Wilton Decorating Tip, No.8B Star is perfect for this one. I like that the details of it, and it is thick enough to produce a good churro. I also prefer disposable piping bags, just because it is near impossible to get them completely cleaned out.
Trace out the size you want your churro sandwich to be. I trace out how big I wanted my churros to be, which gave me a great guide when piping. All I did was draw the circle on the backside of some plastic wrap, and then I piped my churros directly on the other side, this also helps prevent them from sticking in the freezer.
Don't skip freezing the churros. This will help them hold together and keep them from falling apart, no one wants a messy ice cream sandwich.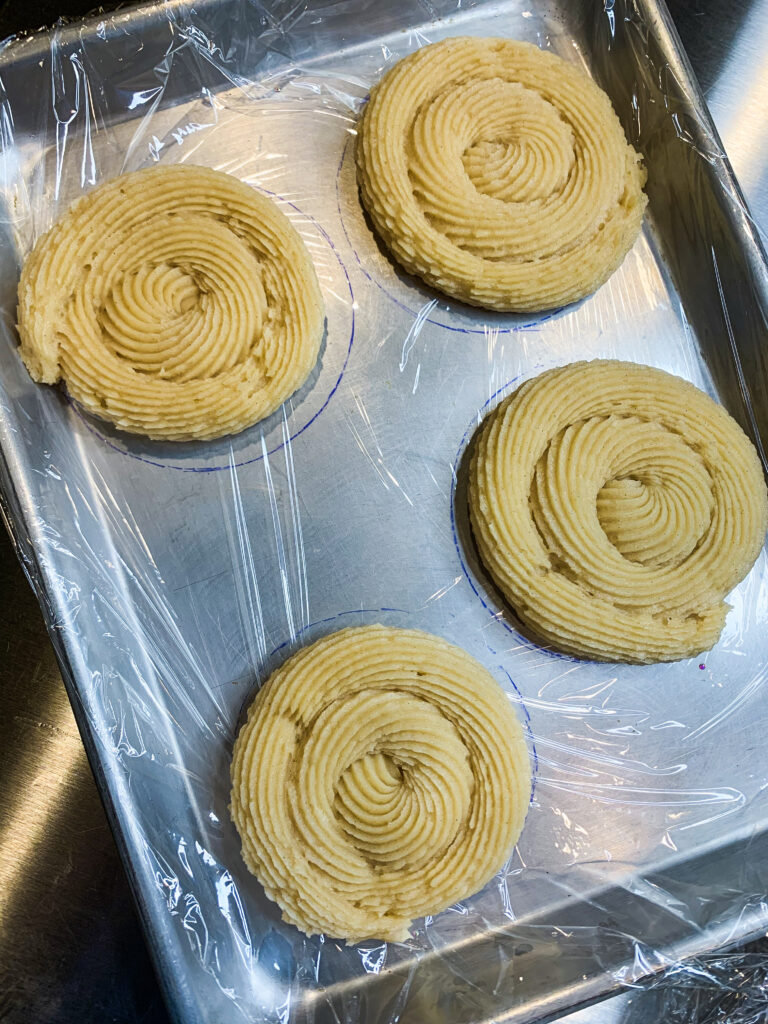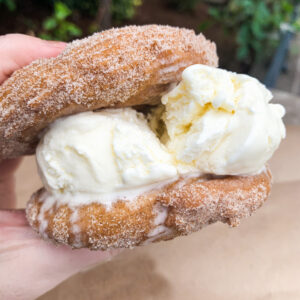 Disney Parks Copy Cat Recipe: Churro Ice Cream Sandwich
This one may no longer be on the menu at Sleepy Hollow, but that doesn't mean you cant make it at home!
Ingredients
1

Cup

Water

8

Tbsp

Butter

1/4

tsp

Salt

3/4

tsp

Ground Cinnamon

divided

1 1/4

Cup

All-Purpose Flour

3

Eggs

1/2

Cup

Sugar

Oil for Frying

Vanilla Ice Cream
Instructions
Combine water, butter, salt, and 1/4 teaspoon of cinnamon in a saucepot and bring to a boil, then reduce heat to low.⁠⠀

Add in flour and stir and press down until fully incorporated, remove from heat and allow to sit for 5 minutes. ⁠⠀

Add in eggs, one at a time, fully mixing to combine before adding the next. ⁠⠀

Fill a large piping bag fitted with a star tip with the dough and pipe in large circles onto a parchment-lined baking sheet. (Pro-Tip: Make sure all the layers are touching, and pre-draw how big you want your churros on the parchment, it will be a good guide.)⁠

Freeze for at least 4 hours⁠⠀

Heat about 2 inches of vegetable or canola oil in a pot to 350 degrees. 

Remove churros from the freezer and fry until golden, and let drain on a piece of paper towel. ⁠⠀

Combine 1/2 cup of sugar, and 1/2 teaspoon of cinnamon and fully coat your warm churros in the cinnamon sugar. ⁠⠀

Sandwich a scoop of ice cream between 2 churros and enjoy! ⁠⠀
Fingers crossed we will be able to find these Churro Ice Cream Sandwiches in Magic Kingdom again, but these are just too good to not make at home!
The links in the post may contain Amazon Affiliate links and I receive a small commission if you chose to purchase from my link, at no cost to you.