There is always so much food to choose from at Disney World, and narrowing down the choices and figuring out what you might want can be difficult. I am kicking off a brand new series where I break down everything I ate during my Disney World trip, it's essentially a look into what I eat in a day. I'll tell you what I loved and would order again, and what wasn't my favorite and I probably avoid from now on.
So, let's kick this one off on day one of my last trip to Animal Kingdom. If you want to get my full reactions to these foods, head over to my Instagram story highlights, where you can see my real-time reactions! Now, let's head to Animal Kingdom!
Before we start talking about food, let's break down some of the trip details:
Dates: September 6-10, 2021
Resort: Animal Kingdom Lodge – Jambo House
Jump to:
Day Two – Hollywood Studios/Disney Springs/Epcot (coming soon)
Day Three – Hollywood Studios (coming soon)
Day Four – Epcot (coming soon)
After Hours – Boo Bash (coming soon)
Disney Springs Halloween Treats (coming soon)
Resort Dining (coming soon)
Breakfast
Sausage, Egg and Cheese Biscuit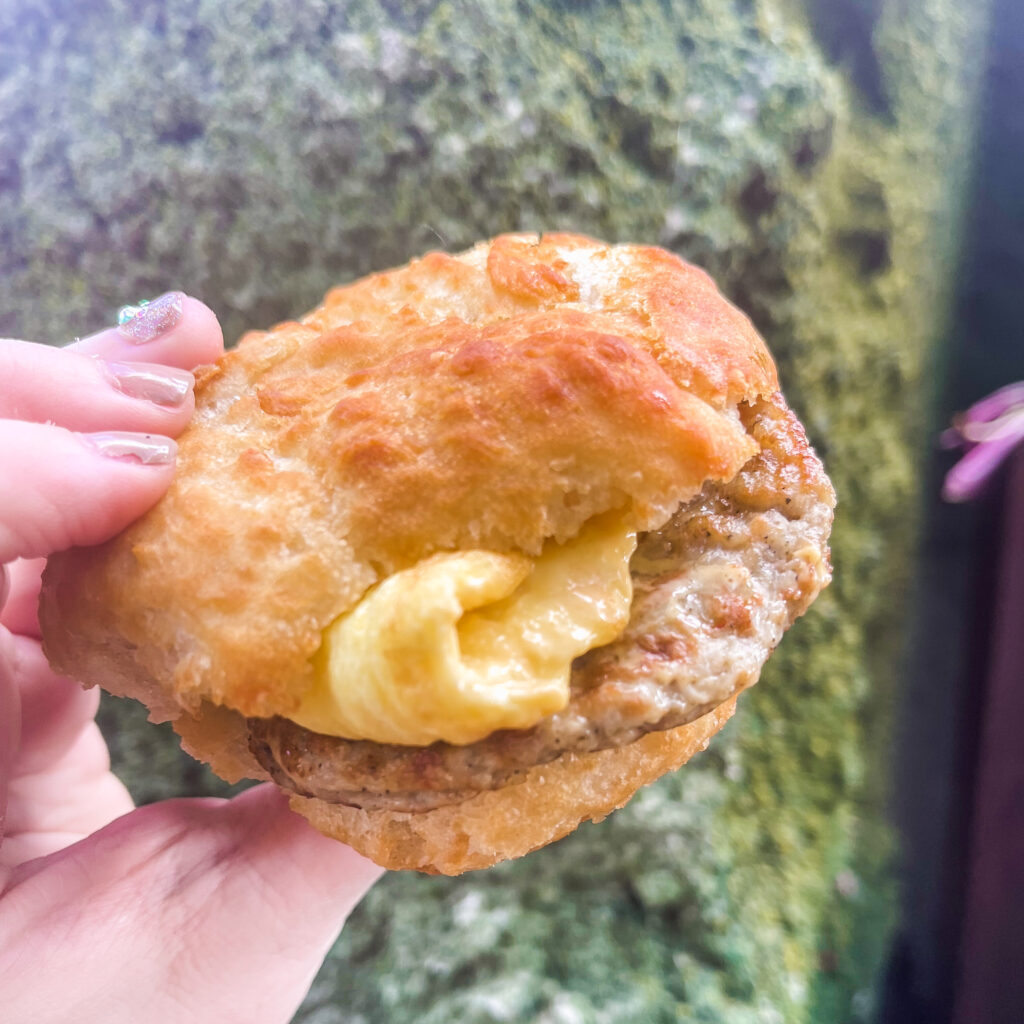 I heard a tip that the best biscuits in Animal Kingdom can be found in Pandora at Pongu Pongu, which is unsuspecting at first – However, the central kitchen is located right behind Pongu Pongu, so essentially it has something to do with the proximity from the kitchen to consumer.
This biscuit did not disappoint, the biscuit itself was perfectly golden brown, buttery in all the good ways. The cheese was perfectly melted to bring the sandwich together, and I have added this one to my list of must-order foods in Animal Kingdom.
Location: Pongu Pongu
Price: $6.99
Rating: 8.5/10
Would I Order it Again: Yes!
Rum Blossom
I will be honest, I usually don't drink this early at Disney World, but this was a hair of the dog situation as I was struggling from drinking around the monorail the night before. Honestly, this drink never disappoints and is a staple when I am in Pandora.
My biggest complaints are, it melts fast in the Florida heat, and you have to stir it and ruin the pretty colors to mix in the rum which as served just sits on top. This one is a good combination of Desert Pear Limeade and Apple, the limeade cuts the sweetness and this one just blends so well together. There is also a non-alcoholic version of this one called the Night Blossom if drinking in the morning isn't your thing!
Description: Bacardi Superior Rum with layers of Apple and Desert Pear Limeade topped with Passion Fruit Boba Balls.
Location: Pongu Pongu
Price: $13.00
Rating: 10/10
Would I Order it Again: Yes, and I always do!
Lunch/Snack
Look, you are going to have to roll with this one because I am more of a grazer and not someone that eats three-round meals at Disney World. So that being said you typically won't find me eating a traditional lunch, so let's break it down as I wander around the park. On a side note, Animal Kingdom has the best food of any Disney World Park, and you can quote me on that, so let's continue eating!
Ngumu Jungle Juice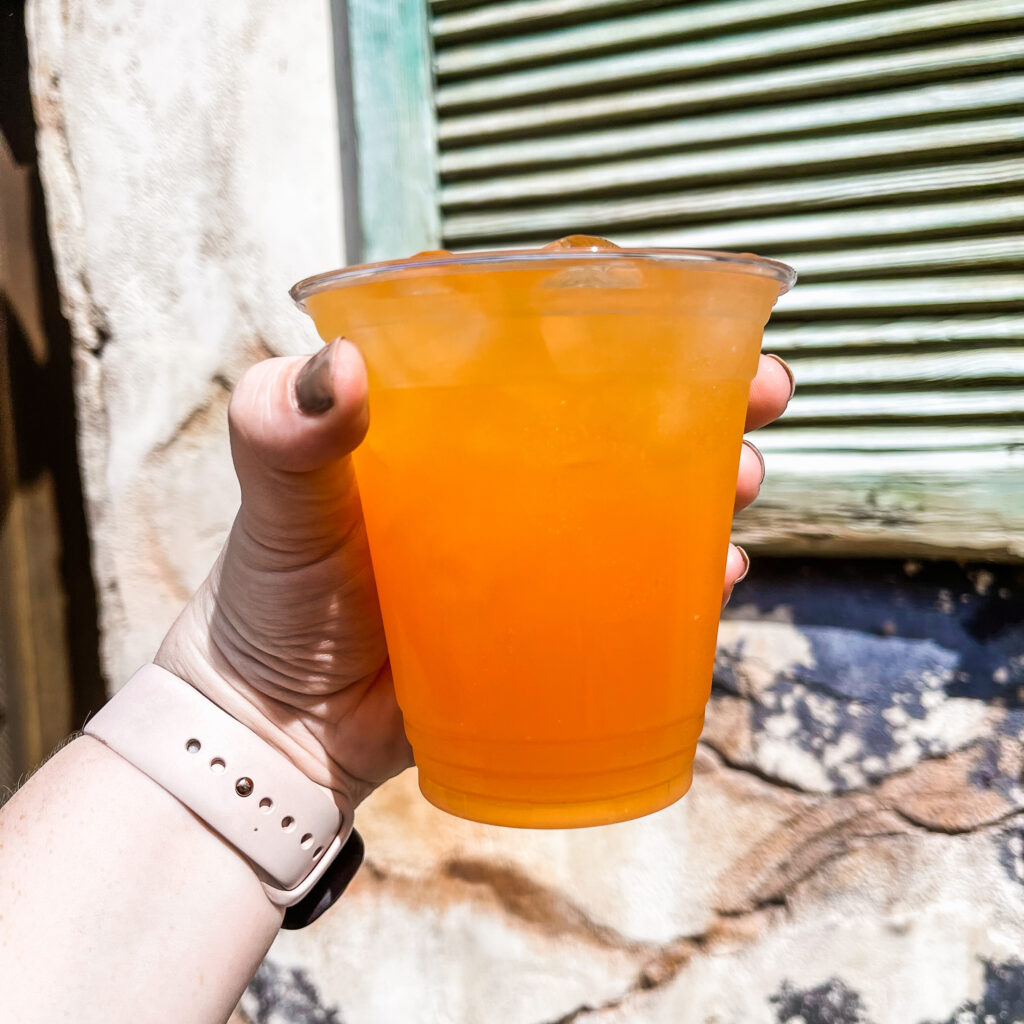 Okay, so recently, Disney World had a Jungle Juice shortage, the supplier they were using discontinued it, and they were without POG Juice until they could find a new supplier. It was on the menu when I went to Dawa Bar, so I asked the bartender about it. He said this was the first shift he had seen POG Juice back, and he warned me that it was different (never a good sign).
Overall, the new POG Juice is different, our beloved juice has changed, but it is still good. The Ngumu Jungle Juice is such a well-balanced drink, with peach schnapps and vodka, and it is a perfectly refreshing cocktail for when you get off the safari.
Description: Snow Leopard Vodka, Bols Peach Schnapps, and Tusker's famous Jungle Juice.
Location: Dawa Bar
Price: $13.00
Rating: 7.5/10, this one is taking a hit solely because of the new POG Juice situation.
Would I Order it Again: Yes, but I might be trying other things.
Mr. Kamals' Fries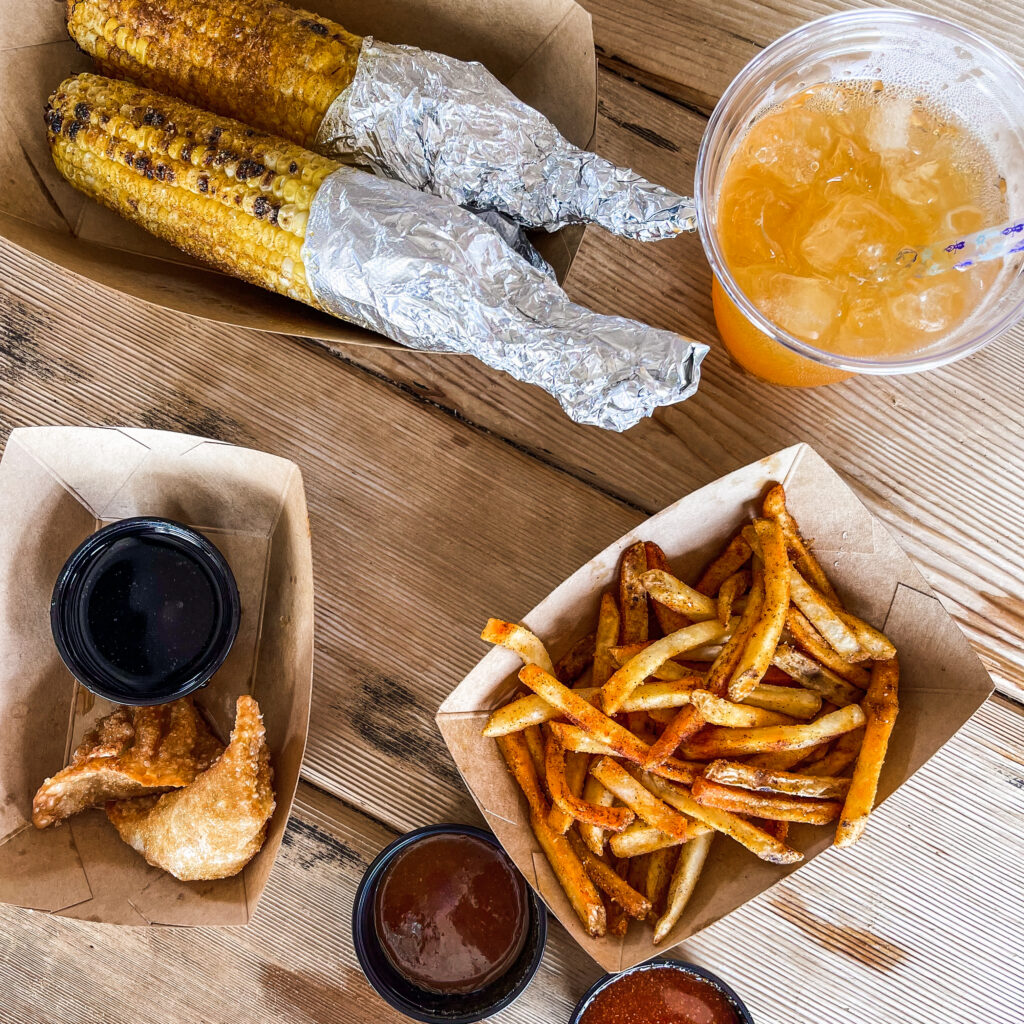 Did I choose to drown my sorrows in food when I realized the POG Juice was different? You better believe it, luckily Mr. Kamal's is just down the path from Africa and the perfect place to grab a snack.
These fries are perfectly spiced without being spicy and are amazing if you catch them fresh out of the fryer. I hate making decisions, so that being said I will say I love the dipping sauces equally. There is a Curried Honey Mustard and the Korean Chilli Ketchup, and I enjoy mixing them together.
Description: Served with curried honey mustard or Korean chili ketchup.
Location: Mr. Kamal's
Price: $5.99
Rating: 9.25/10
Would I Order it Again: Yes, these fries are heaven.
Chicken Dumplings
Okay, so the fries at Mr. Kamal's typically get all the hype… however, that means you might be overlooking the chicken dumplings when you shouldn't be! These dumplings are deep-fried to perfection and come with a ponzu sauce to dip them in. The sauce has a hint of citrus and is perfect for keeping the dumplings light and fresh.
My biggest complaint, there are only 3 dumplings for the price, so it is never going to make the list of one of the best deals in Disney.
Description: Served with Ponzu.
Location: Mr. Kamal's
Price: $5.99
Rating: 7.5/10
Would I Order it Again: Yes, they aren't the best value so I don't order them often, but they are always a good treat.
Grilled Corn on the Cob
I know that corn on the cob might not be the quintessential theme park food, but you have to try this one when you are in Animal Kingdom. You have the option to get it with or without the African spices, but take my advice and order it heavy on the seasoning.
The spices are a combination of African Berbere Spice, and curry powder, and are the perfect seasoning for some fresh corn on the cob. One of the best parts about Harambe Fruit Market, which is where they sell this, is they grill the corn fresh on a large grill in front of you!
Description: With or without African Spices.
Location: Harambe Fruit Market
Price: $5.29
Rating: 10/10
Would I Order it Again: Yes, it is my number one must-order thing in Animal Kingdom.
Pumpkin Pie Latte with Kahlúa
Joffrey's is such a staple of Disney Parks and one of my favorite locations is in the little building tucked away right across from the Yak and Yeti quick service. If you follow the path to the right of the building it will also take you down to a little seating area on the water, and it is the perfect place to character watch as they pass by on the boats.
Now let's talk coffee, of course, I had to be basic and go with a pumpkin latte, and of course, being me, I had to spike it. And if you are looking to make this into an adult beverage, they will add shots of anything you want, so that is always a great option.
Description: Pumpkin pie syrup, milk, and espresso.
Location: Royal Anandapur Tea Company
Price: $6.09 without the alcohol.
Rating: 8/10
Would I Order it Again: Yes.
Nomad Lounge
Did you even visit Animal Kingdom if you did stop by Nomad Lounge? This lounge is tucked in right next to Tiffins and right before the bridge to Pandora, and is the perfect spot to relax and grab a drink. The waitlist often gets to capacity, but keep checking it and also ask the host if there is any availability.
Jenn's Tattoo
Honestly, there isn't any cocktail on this menu that you would be disappointed in if you like what is in it. Nomad Lounge does an outstanding job with their cocktails, and depending on my mood depends on what I order.
Jenn's Tattoo is well-balanced, and I love watermelon during the summer. It also comes with a Hibiscus flower, which you can eat, and is often referred to as "nature's fruit roll-up."
Description: Ketel One Vodka, Watermelon, Hibiscus, and Lime Juice.
Location: Nomad Lounge
Price: $13.00
Rating: 9/10
Would I Order it Again: Yes.
Churros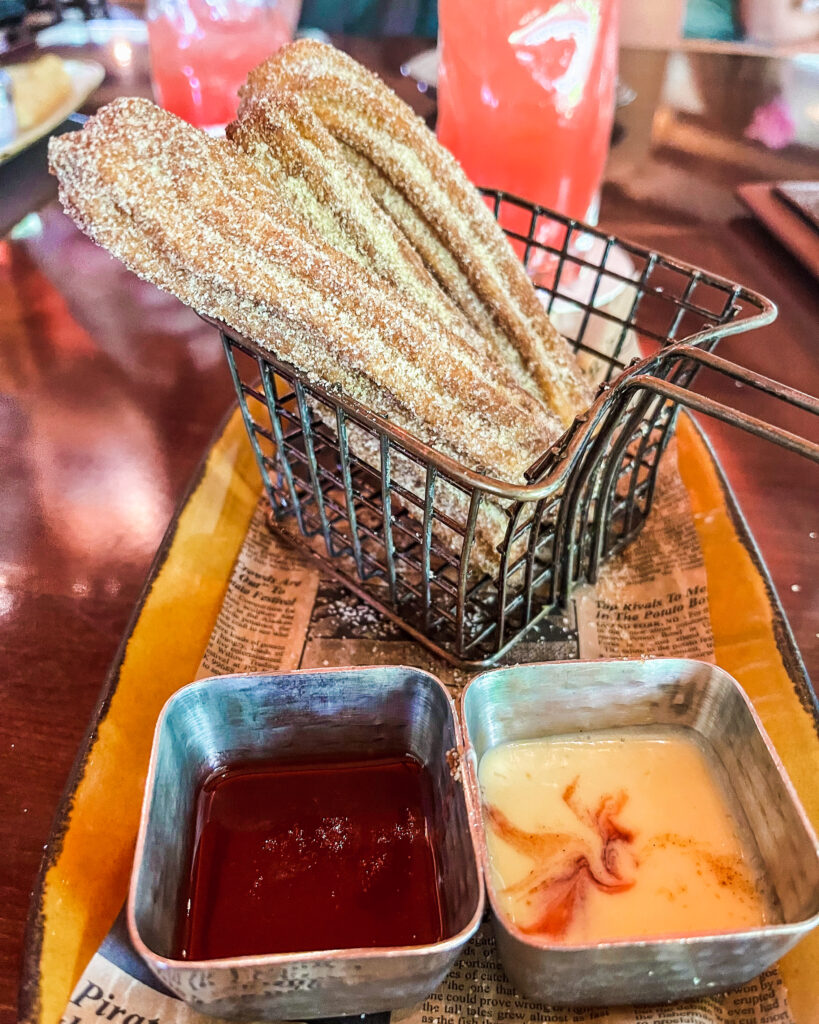 "You go and save the best for last." These are the best churros in Disney World and that is not up for debate. Not only are they perfectly golden and covered nicely in cinnamon sugar, but they are also GLUTEN FREE. For $9 you get an entire basket, which I feel is a great Disney deal. Also, the sauces that you dip them in are perfection, the chili-strawberry has a nice kick to it, and I love dipping my churro in both.
PSA: You can also order these churros to go. Just let the host know you want to order and she will direct you to the end of the bar where you can order to-go drinks AND CHURROS!
Description: Vanilla Crema, Chili-Strawberry.
Location: Nomad Lounge
Price: $9.00
Rating: 12/10
Would I Order it Again: Yes, and if we are meeting at Nomad, please order your own!
A Day of Eating
I usually am not one to have dinner in the parks, I just think the resorts and Disney Springs offer much better options. So, usually late to mid-afternoon, I will head back to the resort to freshen up before dinner. I hope you enjoyed eating along with me on this first day of my trip, and I can't wait to share the rest of the foods I enjoyed on my Disney trip!
Be sure to follow along because tomorrow I am wrapping up a busy day of my trip as I hopped from Studios to Springs, to Epcot, and the treats were plentiful.