Be Our Guest is always on my list for people on their first trip to Disney World. How can you top enjoying a meal in Beast's Castle?! I don't usually visit Be Our Guest on every trip, but I do miss their French Onion Soup, it's cheesy and delicious, and previously it was vegetarian! So of course, I had to recreate this one at home!
Be Patient. Cooking down and caramelizing onions takes time, in the case upwards of 45 minutes, don't rush this process, you want the onions to get a nice color, not burn.
Use a Broiler Safe Dish. In order to get the browning on the top of the cheese, you are going to want to stick these under the broiler, something like these French Onion Soup Crocks are perfect.
You don't have to stick to the recipe. The former beauty of the Be Our Guest French Onion Soup was that it was vegetarian, however, it is no longer that way and this recipe can be adjusted for a little more flavor, simply swap out the vegetable broth for beef stock. Also, if you can't find Gruyere cheese you can easily substitute Swiss!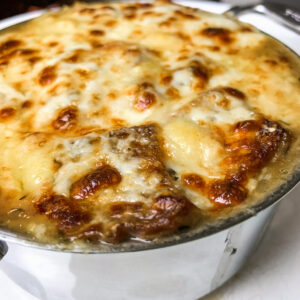 Be Our Guest Inspired French Onion Soup
This soup is a staple at Be Our Guest, and it's vegetarian.
Ingredients
4

Tbsp

Butter

1 1/2

pounds

Yellow Onion

Sliced Thin

1

tsp

Sugar

1/8

cup

flour

6

cups

vegetable stock

1/2

Tbsp

Dried Thyme

1/2

Tbsp

Dried Parsley

1

Dried Bay Leaf

salt and pepper

to taste

French Bread

5

oz

Gruyere Cheese

shredded

4

slices

Provolone
Instructions
In a large soup pot, melt butter over medium-low heat.

Once butter is foamy, add sliced onions and sugar. Cook stirring occasionally until the onions are golden brown, this should take about 45 minutes – don't rush it.

Once cooked add in flour and stir to coat, cook for 3-4 minutes, stirring occasionally.

Add in vegetable broth, herbs, salt, and pepper to taste, then bring to a boil – turn the heat down to low and simmer for one hour.

While the soup is simmering, slice bread thin and toast in a 450-degree oven until lightly browned, 5-7 minutes.

Once the soup has cooked, ladle into 4 ovenproof dishes.

Top with the toasted french bread, cover each crock with a slice of provolone, and top that with the grated gruyere.

Place under the broiler and cook until the cheese is bubbly and lightly browned.
Hopefully, the Quick Service option will be back at Be Our Guest soon, I use to get a lunch reservation and just order this soup! Because even though it might be 100 degrees in Florida, I will always order this soup!

The links in the post may contain Amazon Affiliate links and I receive a small commission if you chose to purchase from my link, at no cost to you.