It is time to kick off a breakdown of the second day of my last Disney World vacation, so let's talk about everything I ate and drank. This was quite a full Disney day, the morning started at Hollywood Studios with a 9:30 AM reservation at Oga's Cantina. Honestly, it tends to be a difficult reservation to get, so you have to take whatever is available. Luckily, we had also snagged a pretty early Rise of the Resistance boarding group, so I was happy to be able to squeeze that in after Oga's.
Then it was off to Disney Springs around noon to meet up with Touring Plans, we were on a mission to find the Halloween Treats in Disney Springs, and boy did we, more on that in a later post. We grabbed a quick lunch at Jock Lindsey's Hangar Bar, it's right on the water and it is a great place to enjoy the sights while grabbing a drink and a meal.
After spending some time in Springs, it was off to Epcot, this was my first look at Food and Wine in 2021. I didn't eat much, but I did make my way around World Showcase and scout out what was on the list for later in the week! Overall, it was a great day of eating around Disney World, now let's break it down!
Before we start talking about food, let's break down some of the trip details:
Dates: September 6-10, 2021
Resort: Animal Kingdom Lodge – Jambo House
Jump to:
Day Three – Hollywood Studios (coming soon)
Day Four – Epcot (coming soon)
After Hours – Boo Bash (coming soon)
Disney Springs Halloween Treats (coming soon)
Resort Dining (coming soon)
Breakfast – Hollywood Studios
Bloody Rancor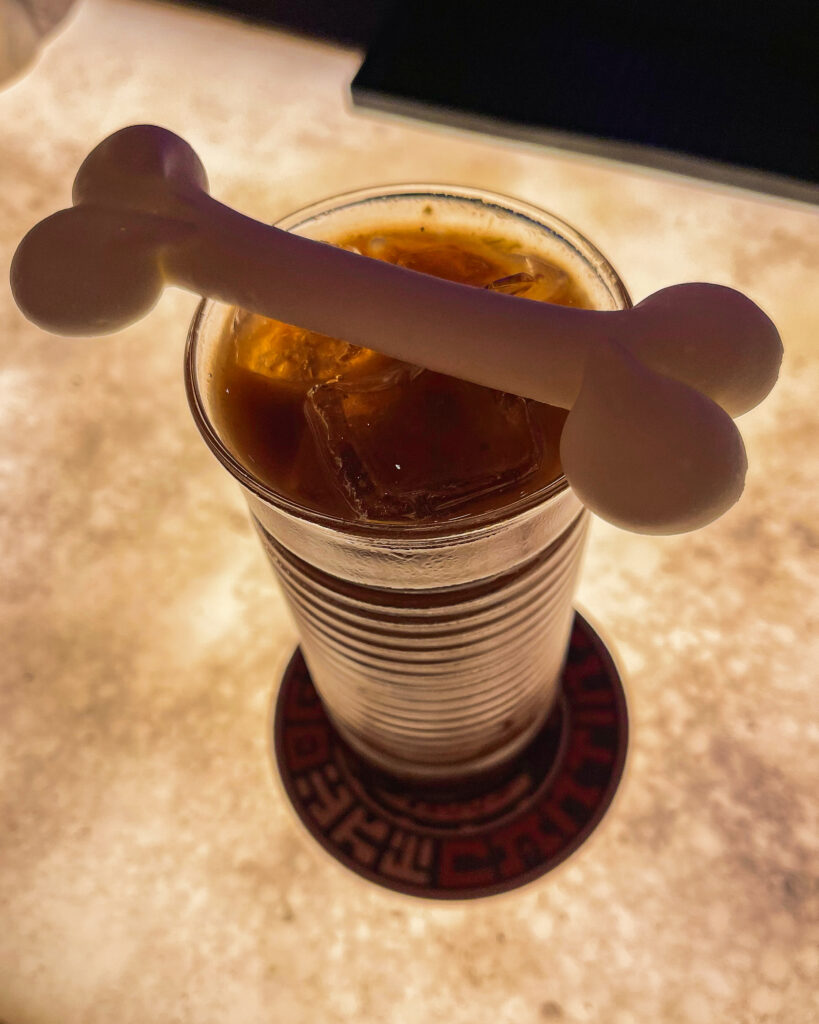 A liquid breakfast counts as breakfast, right? Look, when you get a reservation to Oga's you take it no matter the time of day. Which is exactly why I was drinking at 9 am in Batuu, plus its vacation so don't judge me. I did score this reservation using Touring Plans Reservation Finder, so if you are trying to snag Oga's, give it a go.
So, the Bloody Rancor isn't on the menu anymore, it has become a hidden menu item that Millennials on Main Street gave me the 411 about. Honestly, I am not the world's biggest Bloody Mary fan, but this one was good. The highlight for me was the meringue bone that comes on the top.
Location: Oga's Cantina
Price: $18.00
Rating: 7.5/10
Would I Order it Again: Yes, if I were hungover.
Batuu Bits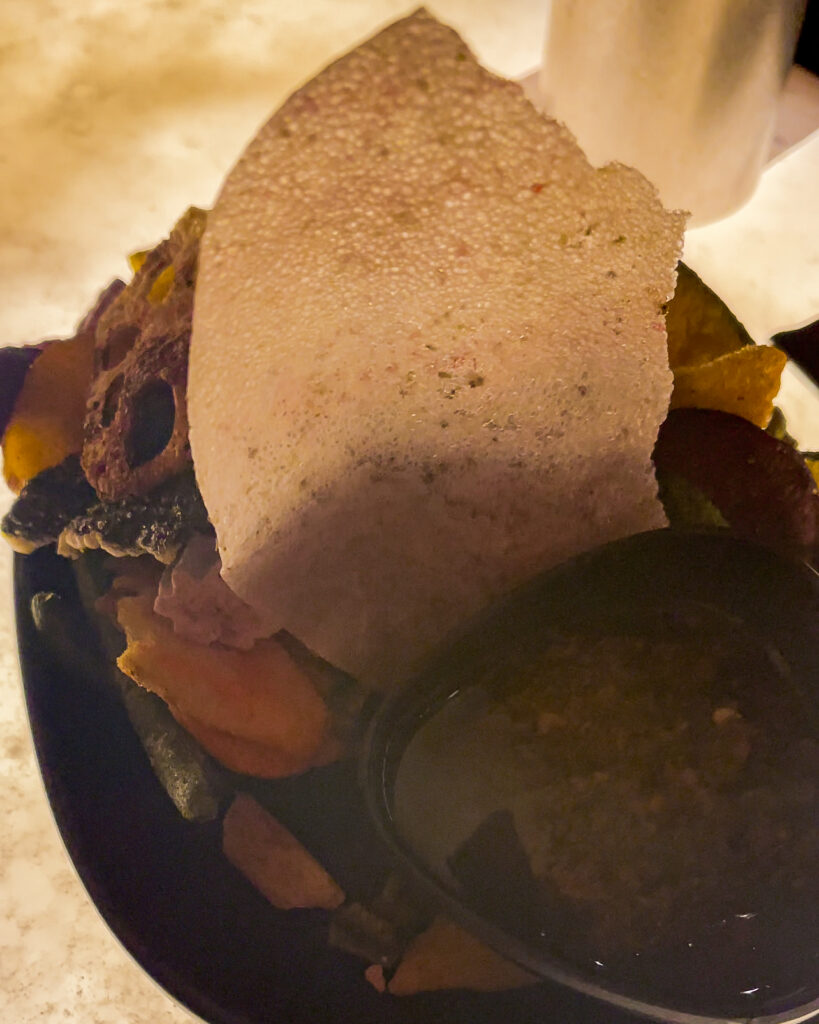 Look if you are rushing to get to your reservation, haven't eaten anything yet, and are prepared to down 2 cocktails in under 45 minutes, this Batuu Bits is fine.
Honestly, nothing about it is good, and I don't understand why they can't do something a little bit better at Oga's. I said what I said. I also refuse to pay $21 for the underwhelming looking Charcuterie Board, go to Baseline Tap House after and order their $10, it is outstanding.
Description: Crispy Galaxy Snack Bits with Spiced Chermoula Dip
Location: Oga's Cantina
Price: $11.00
Rating: 1/10
Would I Order it Again: Absolutely not.
Lunch – Disney Springs
After spending the morning on Batuu, it was off to Disney Springs to meet up with my friends from Touring Plans. We were on a mission to try all the fun Halloween treats in Disney Springs, and we did, more on that in a later post. But my other goal was to stop by Jock Lindsey's Hangar Bar to try the loaded pretzel, I have heard the hype and I just needed to order this one!
Air Pirate's Cargo Loaded Pretzel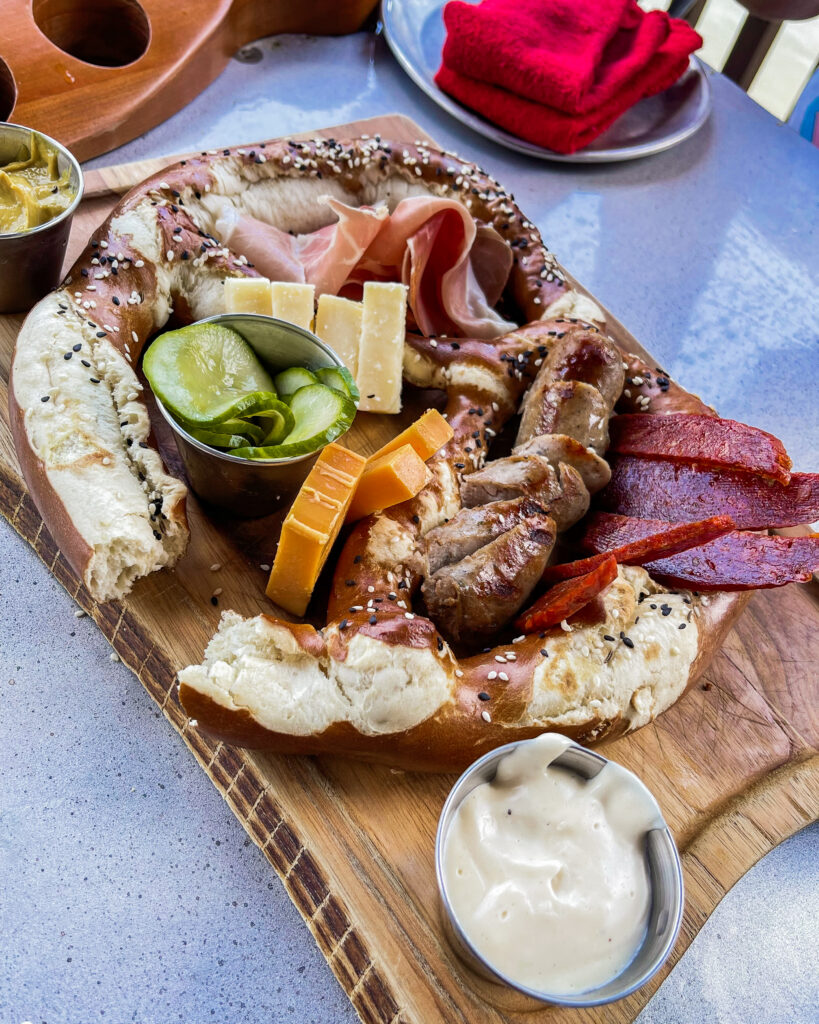 Honestly, this pretzel is a masterpiece, it is like a combination of a pretzel and a charcuterie board and I am LIVING for it. Jock Lindsey's is a fun time to begin with, if you love Indy, you have to visit. They always are adding something unique and fun to the menu, for example, Bacon of Doom, which was chocolate-covered bacon that came with a smoke show.
But back to the pretzel, I loved every aspect of this one, the pretzel was fabulous, I couldn't decide what I enjoyed more, the beer cheese or the spicy mustard, both were outstanding. But seriously, there is so much to eat on this plate that it is easily a full meal.
Description: Prosciutto, Sliced Brats, Artisan Pepperoni, Smoked Cheddar, Black Diamond Cheddar, Caraway Pickles, Spicy Mustard, and Beer Cheese Fondue.
Location: Jock Lindsey's Hangar Bar
Price: $22.00
Rating: 10/10, dare I call this the best pretzel at Disney World?
Would I Order it Again: Yes, all day every day.
Afternoon Snack – Epcot
Park hopping was in the cards this day, there was a lot to do and see. We had evening reservations at Citricos, more on that later, but spoiler alert it was phenomenal. After dropping off the Halloween goodies, we took the bus over to Epcot to get a first look at Food and Wine. Am I late on the trend, yes, but it is what it is?
Char Siu Pork Udon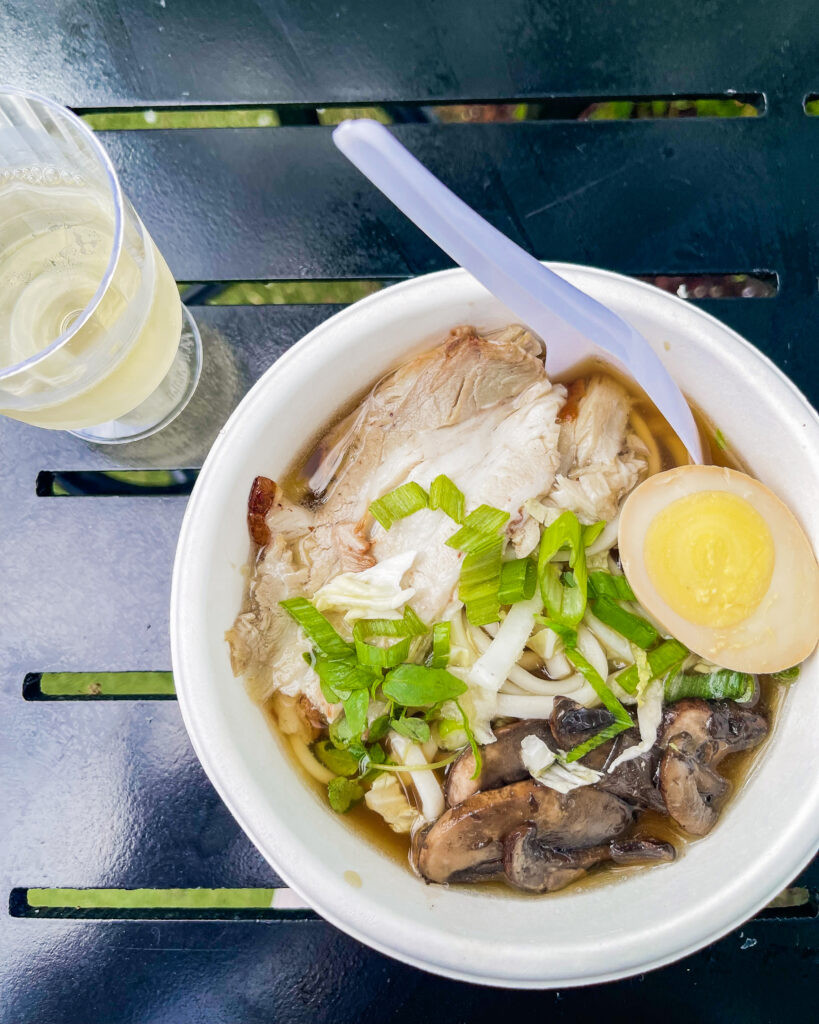 Upon arriving at Epcot a good ole afternoon Florida rainstorm came through, so we took shelter by the main entrance and waited for it to stop raining. The downfall of that, the humidity because like 1000% percent and it feels so hot. So what better place to stop first than the brand new, The Noodle Exchange. This one is a take on Far East noodles, so we are talking hot soup, but boy this booth was about to impress me this whole trip.
I had heard amazing things about the Char Siu Pork Udon and I knew I had to order it, despite the full-body sweating. Someone said that two hot things cancel each other out, and while I don't think that is true, I went with it.
My first thought is, is this traditional Udon? No. Despite it feeling like 100 degrees out is this delicious and did I want to eat the whole thing? Without a doubt. The pork was actual perfection, I have no other way to describe it. The flavor was phenomenal, and it was tender and delicious. I would order this one every single time… if I didn't want to try other things on the menu.
Description: with Enoki Mushrooms, Bok Choy, and Soy Pickled Egg
Location: The Noodle Exchange at Food and Wine
Price: $5.50
Rating: 9/10
Would I Order it Again: Yes.
A Day of Eating
This about wraps up my second full day of eating in Disney, after that we hopped on the monorail over to Grand Floridian for my first look at the new and revamped Citricos. I know my review isn't up yet, but if you are about to make dining reservations, book it now! You'll see why I loved it so much later, no one aspect of that restaurant disappoints.
Be sure to come back for the next part of my series, because we are headed back to Hollywood Studios to eat. Trust me when I say Hollywood Studios has the best Halloween snacks of any Disney Park!