If macaroni and cheese had a baby, it would be Epcot's Nudel Gratin. You can find this dish in the Germany Pavilion in Epcot, and it's a custard-like Mac & Cheese, which is the perfect way to treat yourself when drinking around the world. It is by no means healthy, but when is mac and cheese ever that way?
Disney Parks Blog released a recipe for this one back in 2013, but I will tell you this now, there is no way that is what they are making in Epcot. For starters, there is in no way enough cheese to equal the amount that you see on the Nudel Gratin in the parks. So, with a little (or a lot) of tweaking, I have made this recipe as close to perfect as possible.
A few notes, you could always use ham in this, during Food and Wine, they have offered the option of getting this dish with or without ham. I honestly don't have a preference for which one I prefer, but I don't think the addition is necessary! So grab a beer, and make this dish! Prost!
Here are my top tips for making this recipe perfect:
Shred Your Own Cheese. Pre-shredded cheese contains additives to prevent the cheese from clumping together, which also prevents it from melting properly. Shred your own cheese to make sure you get the right texture.
Undercook Your Pasta. Since this recipe is going to spend some time in the oven, undercook your pasta slightly, this means draining it about a minute before it's reached al dente. This will allow it to finish cooking in the oven without it becoming mushy.
Layer Your Pasta and Cheese Sauce. To get that all over baked through cheesy goodness, be sure to layer, pasta, cheese sauce, pasta, cheese sauce. This will make sure all the noodles are coated, and nothing gets too crispy in the oven. Also, don't forget to set aside that extra cheese for the top!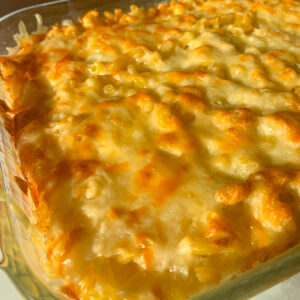 Epcot's Nudel Gratin Copy Cat Recipe
Here's how to make the Nudel Gratin from the Germany Pavilion in Epcot at home!
Ingredients
2

cups

Heavy Cream

1

cup

Milk

2

Eggs

8

oz

White Cheddar Cheese

shredded and divided

8

oz

Swiss Cheese

shredded and divided

3

Tbsp

Butter

divided

1

tsp

Nutmeg

1

tsp

White Pepper

1

tsp

Salt

16

oz

Elbow Noodles

cooked one minute short of al dente
Instructions
Preheat the oven to 350 degrees. 

Combine heavy cream, milk, and eggs in a large bowl and whisk until fully combined. 

Whisk in nutmeg, white pepper, and salt. Then fold in half of both the white cheddar and Swiss cheese, and set aside. 

While noodles are still warm, add 2 Tablespoons of butter and allow it to melt and coat the pasta. 

Use 1 Tablespoon of butter to coat a 9×13" pan. 

You are going to layer the noodle and custard mixture. Start by layer half of the cooked pasta in the 9×13" pan, then add half of custard mixture, repeat the process one more time. 

Top the Nudel Gratin with the rest of the cheese. 

Bake for 45-50 minutes, until the top, is golden brown. 

Allow to cool for 10 minutes, then slice into squares. 
You also might like…
Cozy Cone Motel Copy Cat Recipe: Bacon Mac 'n' Cheese Cone