Cue the pomp and circumstance, because you earn a diploma in Sangria at Disney World. For this one, we are headed over to Coronado Springs Resort and taking on Sangria University at Three Bridges Bar and Grill.
If you are looking for something unique to do that brings you away from the hustle and bustle of the parks, this is the perfect class for you. Three Bridges Bar and Grill is an open-air restaurant, location in the center of the lake at Coronado Springs, meaning you can take in the views while enjoying the fresh air and an educational class.
The Class
When you arrive at Three Bridges for class, you will check in with your host and they will bring you to your preassigned table. There you will find the startings of Sangria University, including your flight of sangria, a Three Bridges staple, but more on that later, fixings for your custom sangria, and a light snack.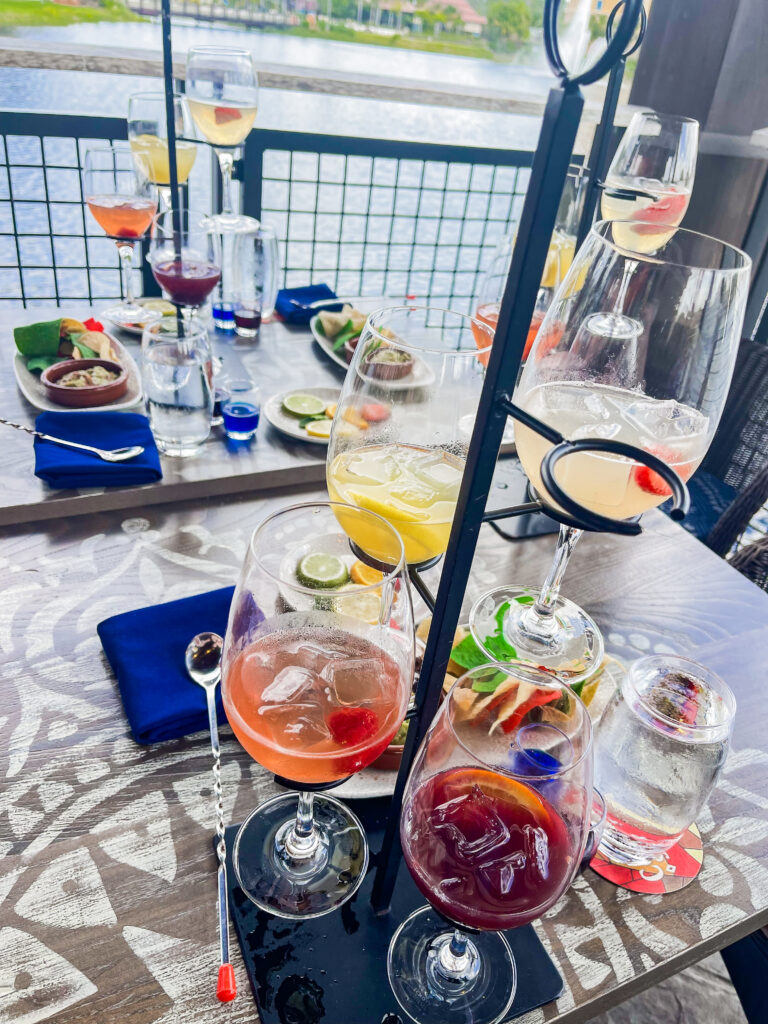 From there it is pretty much hands-off from your 'Sangria Professor' as they walk you through the class and the history of sangria.
It is Sangria University after all, so of course, it comes with a lesson about the drink itself. The class itself gives me college classroom vibes, as you join about 50 people in the class, with everyone being split into two different groups, both with their own instructor. I was initially worried about being distracted and able to hear the other class, as it is an open-air restaurant, but that was honestly never an issue.
During the 90-minute class, your instructor dives into the history of sangria, a lot of which I had never heard before. With the class being large it was hard to hear the instructor at times, but usually, you could follow along.
While the instruction was great, my biggest issue about this class was the lack of individual time, there was none. I wish there would have been a little more guidance when creating your custom sangria, but you just had to go from taste testing with a large group. I will say this wasn't a huge issue, as the class is only $59 so I understand the lack of personal attention.
Food and Drink
Flight
Now let's get down to what you are here for, the drinks. Your class includes their Sangria Flight which includes their four sangrias.
Rosado (Rosé) Sangria. Garnacha Rosé Wine, Puerto de Indias Strawberry Gin, Apricot Brandy, Raspberry, Apple.
Tinto (Red) Sangria. Garnacha Wine, Torres Magdala Naranjas del Mediterráneo, Orange.
Espumoso (Sparkling) Sangria. Freixenet Blanc de Blancs Brut Cava, Peach Liqueur, Lemon.
Blanco (White) Sangria. Macabeo Wine, Torres Magdala Naranjas del Mediterráneo, St. Germain Elderflower, Passion Fruit, Lemon.
They serve this on their normal menu and it sells for $21, so over a 1/3 of the price you pay for the class.
Out of all of the sangrias on the flight, my favorite was the sparking sangria, which helped guide me in the next step of designing my own sangria.
Your 'Sangria Professor' walks you through all of the different sangrias on the flight, pointing out the different types and flavor profiles.
Create Your Own
After you are done sampling the sangrias and get a good idea about what sangria types you love, it is then time to create your own. You are given your own sheet where you can choose what wine and liquors you would like to add to your sangria.
Simply pick what sounds good to you, for the price of your ticket you get to choose one liquor, but additional liquors can be added for an additional cost of around $4.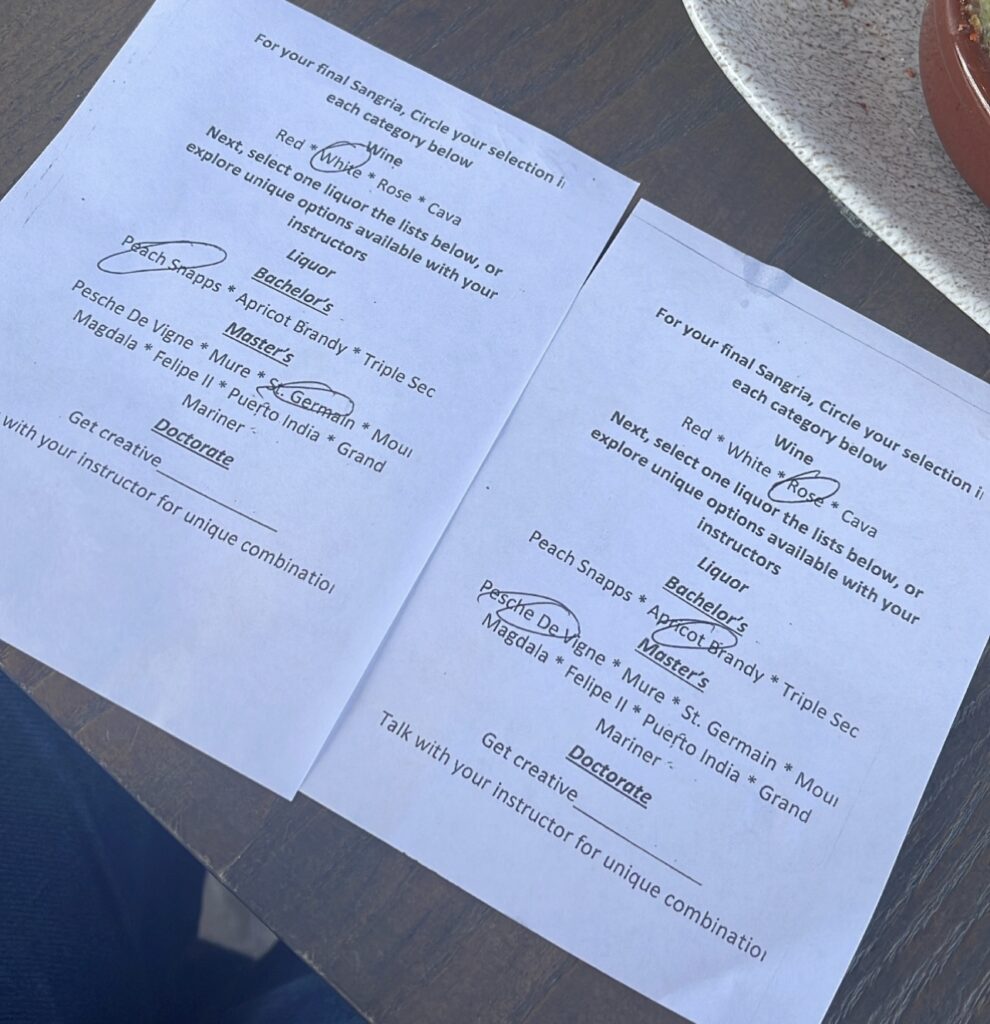 My personal favorite at the table was the Rose, with apricot brand and Pesche De Vigne, it was deliciously fruity, and had such a beautiful color.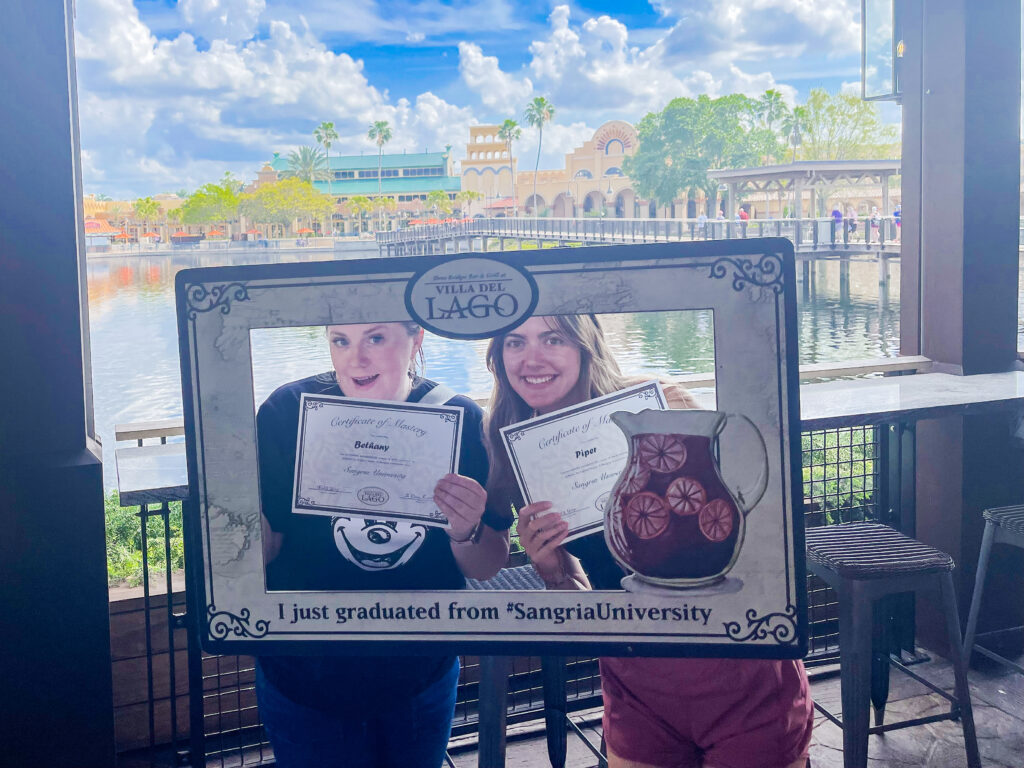 Of course, you don't really graduate until you get a certificate, which is included with your class and just makes the whole experience.
How to Book
Is it Worth the Price Tag?
This class runs on Saturdays and Sundays at 1:30 PM, and it's $59 per person which includes tax and gratuity.
Crunching the numbers a normal flight at Three Bridges will run you $21, so for the added knowledge, snack, and custom sangria I say this is a great deal and I would do it again!
If you have children, this is the time to leave them at home. All guests under 21 are charged the full price, and will be served a non alcholic flight. But it is important to note since you have to pay for the full experience.
If you are interested in booking this on your next Disney Vacation, I always suggest booking with my friends TouringPlans. They are my go-to people and the only team I trust with my vacation plans!
Would you book this one for your next Disney vacation?