Updated December 2021.
Let's continue drinking around Disney World Parks, and stop at Hollywood Studios next. There are some real hidden gems in Hollywood Studios and it has some unique cocktails you only can find there. Drinks tend to be more themed at Studios, and also in my opinion, has the best walk-up bar in Disney. This is the Ultimate Hollywood Studios Drinking List.
Galaxy's Edge
Galaxy's Edge is the newest land addition to Hollywood Studios, and the drinks do not disappoint. You can journey into Oga's Cantina for an out of this world experience, but their quick services also deliver quality drinks.
Oga's Cantina
This is a lounge unlike any other Disney lounge, you get transported to Batuu, and it is an experience that any Star Wars fan must do. Since you are on Batuu, learn the lingo – so if they ask for your credentials, they mean your ID. Yes, the drinks are expensive but they are unique and the experience is unmatched. You need to make a reservation to drink here, there is a walk-up list – but it fills quickly, so don't count on it.
The most famed drink inside Oga's Cantina has to be the Fuzzy Tauntaun. Overall, it is a pretty basic drink, it's a vodka-based peach and orange drink – but that is not why you order it. It's all about the Buzz Button Tingling Foam. What is that, you might ask? It's made from buzz button flower, and one of the side effects is the numbing sensation it produces. Yes, this drink will make your mouth numb, and according to the residents of Batuu the foam only causes that reaction in humans. It's not an "I can't feel my face" situation, but it's a unique experience for sure.
Fuzzy Tauntaun – Oga's Cantina $16.00
View this post on Instagram
Yes, there is a second drink from Oga's on this Ultimate List, I do it with a little hesitation, but I know the Fuzzy Tauntaun might not sound appealing to everyone. Oga's is great, but my biggest issue is, all of the drinks are premixed and come from a tap. I understand why it was done, to get people in and out – there is also a 45-minute time limit when you are at Oga's – but for 16 bucks a drink it just feels a little too much like a cash grab. I think it takes away from the overall experience unless you aren't sitting at the bar, because in that case, you'll never know.
The drinks at Oga's Cantina are unique for sure, and I also am adding The Outer Rim to this list. I have tried every drink at Oga's and this was my last one to check off the list, and boy was I sorry I had waited that long. It's a tequila-based drink – but it's so smooth and the exotic fruit puree on the top is delicious.
The Outer Rim – Oga's Cantina $17.00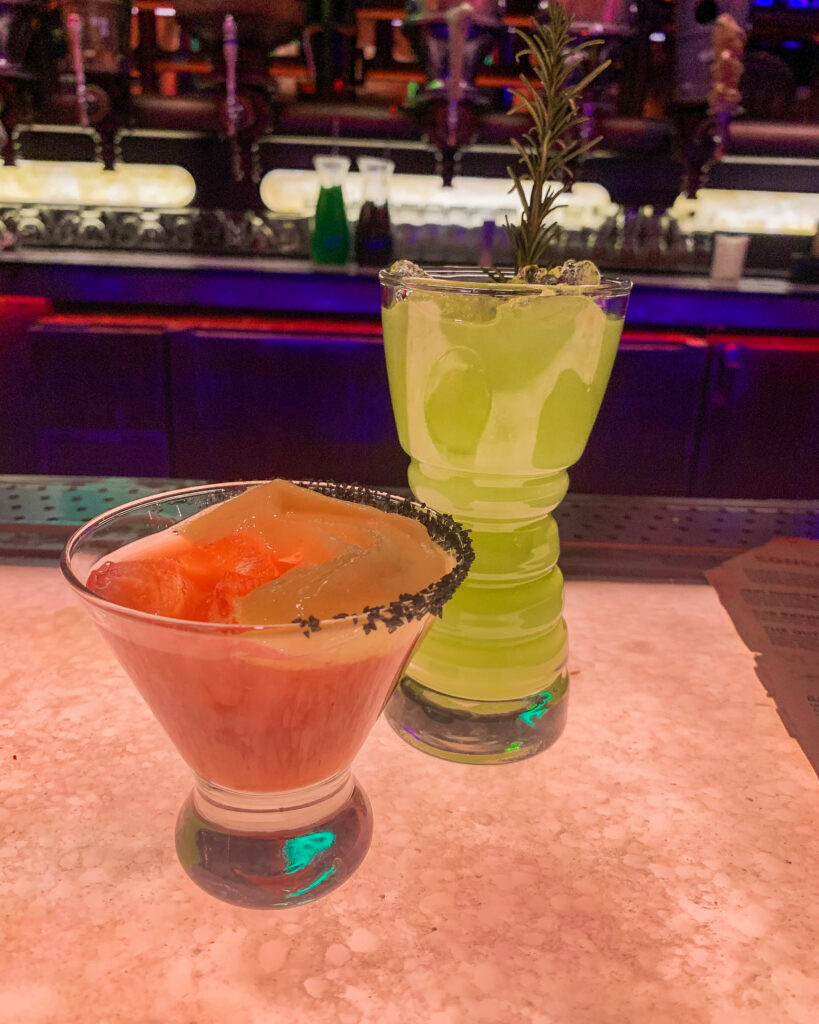 Docking Bay 7
If you are looking to grab lunch, Docking Bay 7 is always a good call, the food there is outstanding and so are the drinks. So, if you can't grab that Oga's Reservation, you can always mobile order from Docking Bay 7. Starting off with my favorite Non-Oga's drink, it's the Takodana Quencher, it's a flavored rum-based drink that is fruity and tropical without being overly sweet. Plus, you can use Photo Pass to get a fun photo with your beverage right outside Docking Bay, like this one.
Takodana Quencher – Docking Bay 7 $15.00
View this post on Instagram
We are staying in Galaxy's Edge to grab another drink, and this time it's the Surly Sarlacc, you can get it from both Docking Bay 7 and Ronto Rosters. I am not going to tell you where you should get it – but I will say this drinks pairs nicely with a Ronto Wrap. This one features a Grapefruit and Rose Vodka which gives it a more floral taste, but it's not overpowering and it is super refreshing. This drink also has a slight kick to it with its "spicy mango flavors."
Surly Sarlacc – Docking Bay 7 and Ronto Roasters $13.00
Grand Avenue
BaseLine Tap House
Baseline Tap House is my go-to place to grab a drink in Hollywood Studios. It's an excellent place to people watch, and their food is delicious too! Of course, their menu is all about beer, and if you are looking to order that I suggest asking the Cast Member for a recommendation based on your taste. However, there is another amazing drink at Baseline Tap House, and it is technically not on the menu. Baseline rotates through different sodas on tap, they use Barrilitos Agua Frescas and currently have a Strawberry Hibiscus on tap. I was suggested to order this one with Tito's and I haven't looked back since first ordering it. It is refreshing and delicious.
On Tap Soda with Tito's – BaseLine Tap House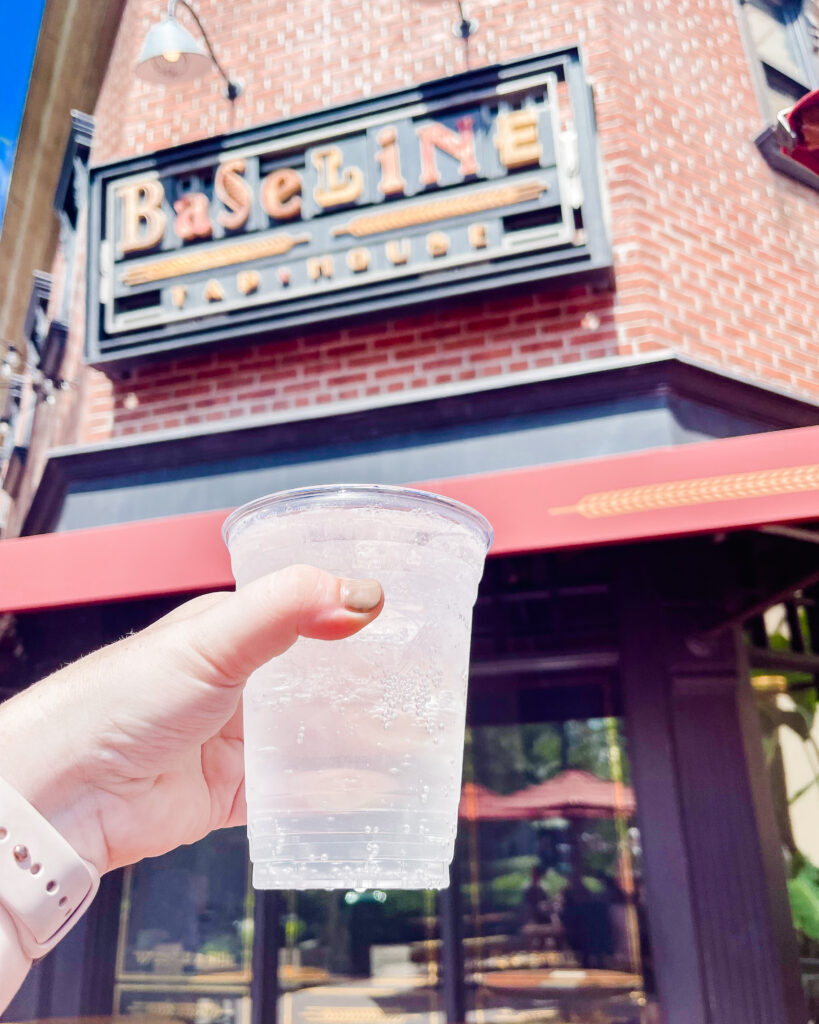 Toy Story Land
Woody's Lunchbox
As far as quick services in Disney World go – Hollywood Studios has some of the best, and Woody's Lunchbox delivers. The sandwiches here are excellent, and you can go wrong with totchos – a combination of tater tots and nachos. But today we are talking about the Ultimate Hollywood Studios Drinking List, and the Grown-Up's Lemonade is one of the best drinks in Hollywood Studios. It's cherry vodka, with lemonade and it's so good. In fact, I recreated this one and it's one of my most popular TikTok's with more than 1.6 million videos.
Grown-Up's Lemonade – Woody's Lunchbox $12.00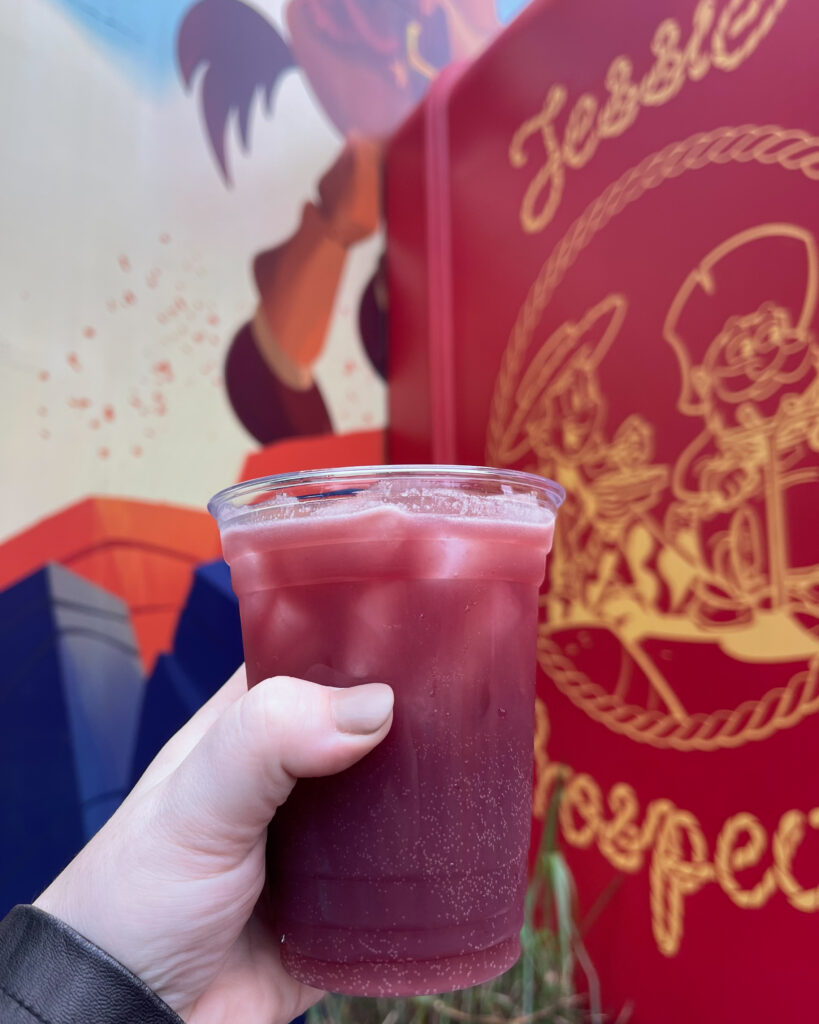 Hollywood Boulevard
Yes, there are a few places to grab a cocktail on Hollywood Boulevard. However, none of them have really been a big stand out to me, and when they were – it was a seasonal drink. However, the outdoor bar at the Hollywood Brown Derby is AMAZING.
Hollywood Brown Derby Lounge
Of course – the most well-known thing at its restaurant's namesake is the Grapefruit Cake, the Hollywood Brown Derby Lounge has a spin on that with the Grapefruit Cake Martini, and this one delivers. It gives you all the same flavors of the cake, just in a liquid alcoholic form. Of course, it features grapefruit vodka, along with vanilla vodka. It's delicious, refreshing, and a nice dessert-like tasting drink.
Grapefruit Cake Martini- Hollywood Brown Derby Lounge $14.00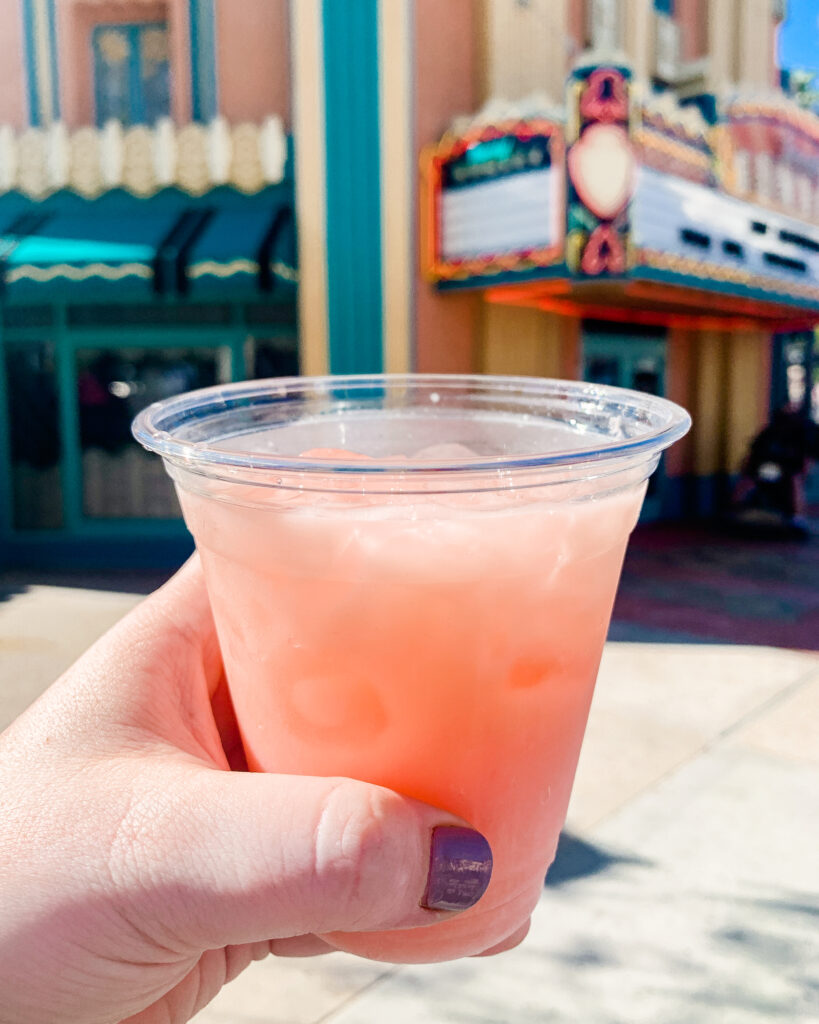 Echo Lake
I feel like Echo lake gets overlooked when it comes to drinks, maybe because it is a little spread out, but I also think it is because most of the drinks are hidden.
Oasis Canteen
Okay, Oasis Canteen is my hidden gem of Hollywood Studios, why do I call it my hidden gem? Because it is not even in the My Disney Experience App. I don't really know how that one was overlooked, but you can find this one right by the entrance to Indy, and across from the Mickey and Minnie Vacation Fun Short. On this menu, you will find quite a few outstanding drinks, with my favorite being the Snake Alley. This one is sweet, and could be the brother of the Tokyo Sunset in Epcot. It is Parrot Bay Coconut Rum, Crème de Banana, Melon Liqueur, Sweet-and-Sour, and Pineapple Juice.
Snake Alley – Oasis Canteen $10.50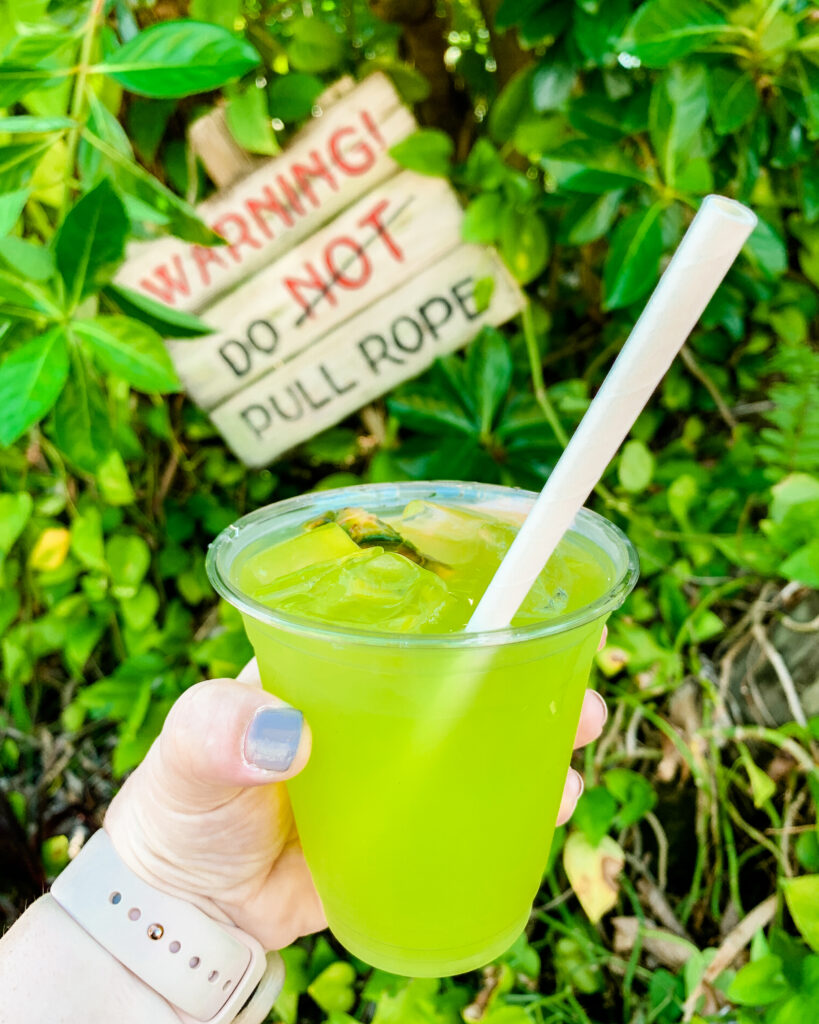 Tune In Lounge
Transport yourself back in time to what feels like could be your grandparent's house. I love the vibes of Tune in Lounge, and it is located right off 50's Prime Time. All the drinks are outstanding, and the bartenders are amazing, but I suggest trying the Grandma's Picnic Punch, this one is sweet and packs a punch, it is Vodka, Peach Schnapps, Crème de Cassis, Light Lemonade, and Pineapple Juice.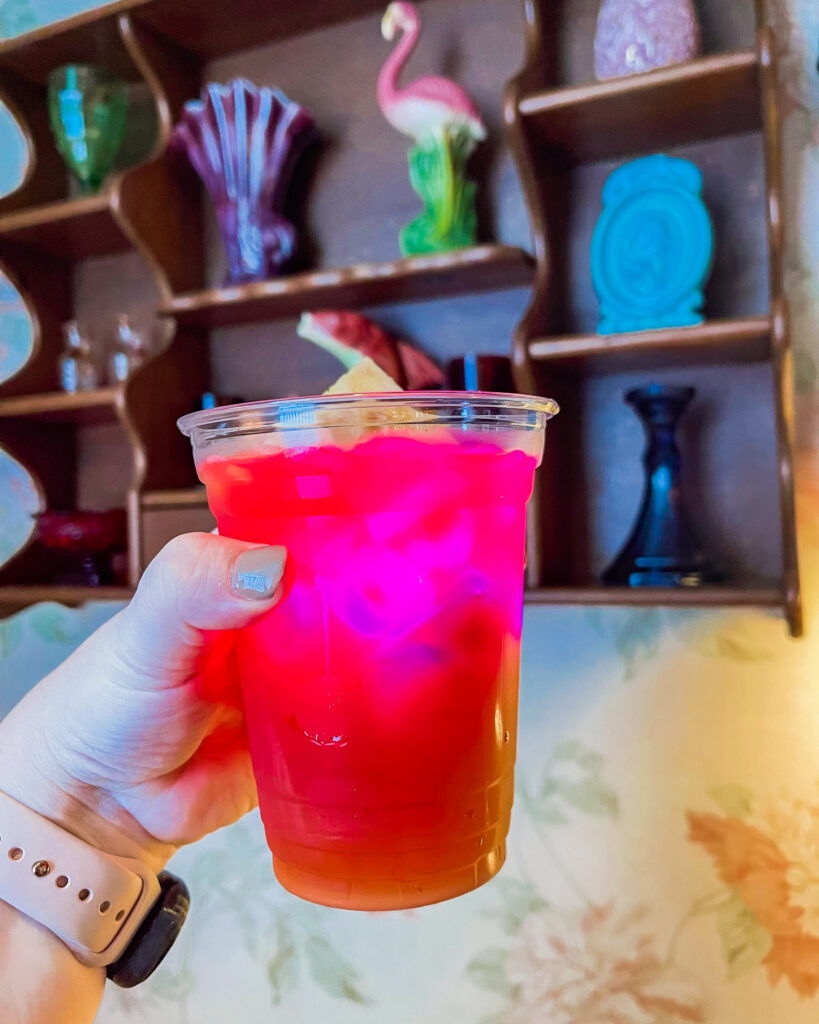 While you are in Tune In, or really any full-service bar in Hollywood Studios, you have to try the Shimmer Over the Moon. This cocktail was created especially for the 50th Anniversary of Disney World and is easily one of my favorites. It features Apple Pie Moonshine, and I would describe it as if an apple pie and a pineapple upside-down cake became a drink.
Shimmer Over the Moon – Various Hollywood Studios Bars $14.00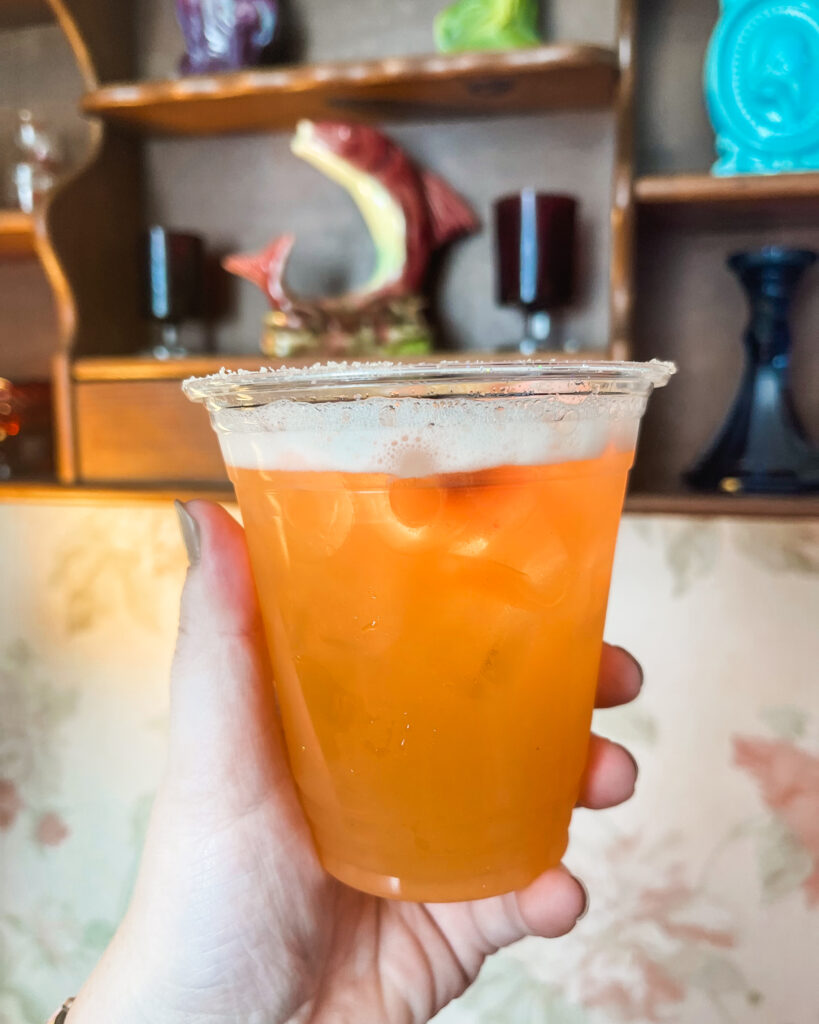 Well, we have made it through the drinks in Hollywood Studios. What are your favorite drinks in the park, and be sure to come back because next, we are heading to Animal Kingdom!
You also might like…
If you love drinking in Disney, be sure to check out my Ultimate Epcot Drinking List. I break down the drinks you should order from each of the 11 pavilions around the World Showcase.