When I think EPCOT, I think Violet Sake, and this Violet Sake recipe will make you feel like you have stepped right into the Japan Pavilion in EPCOT.
I like to consider myself a Violet Sake Professional, what that entails, honestly, I am not exactly sure. But I will say this, going to EPCOT and not getting a Violet Sake seems like a crime. So let's break down what this drink is and where to get it before we jump into the recipe.
If you are looking for a refreshing drink that favors the sweet side but gives you a unique flavor instead of a typical fruit, this one is for you. It is a beautiful vibrant purple color and comes topped with a fresh lemon slice, and the combination of purple and yellow is exactly what you want in a sweet drink.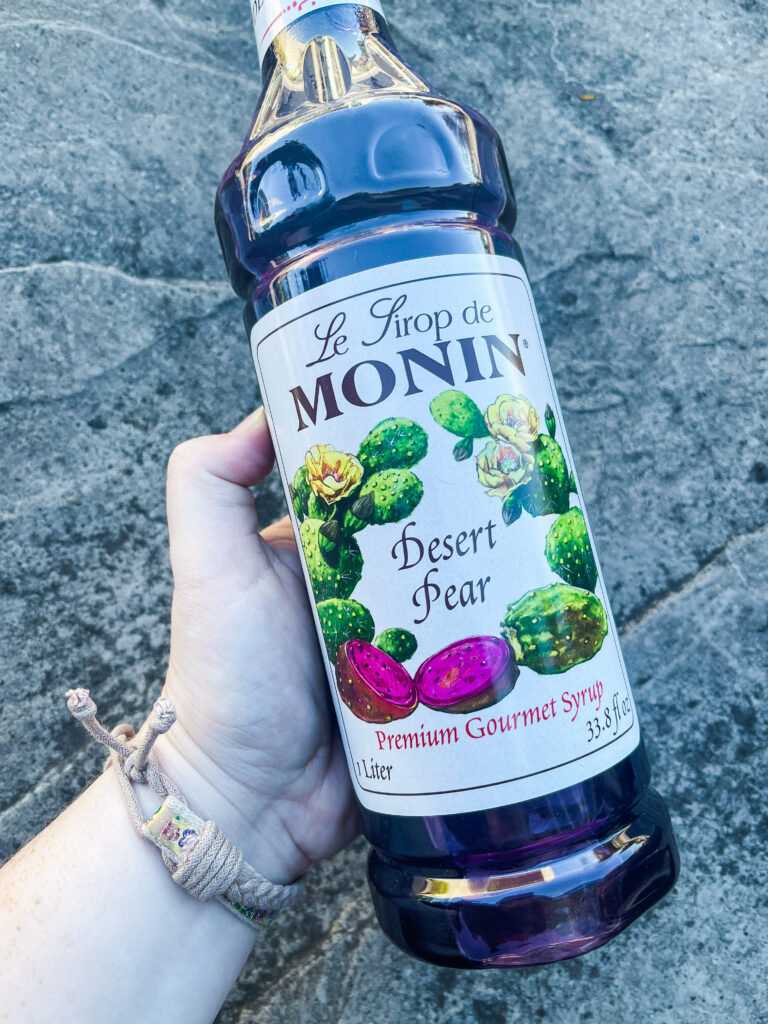 Here's what you are going to need to make a Violet Sake at home:
Desert Pear Syrup I am not trying to sound demanding but you need to get the Monin syrup for this one, there are no if, ands, or buts about it. It is the perfect combination of sweet fruit with an almost earthy flavor and gets most of its color from beet juice. This is the exact syrup they use in Disney World, I have found the easiest way to get it delivered is by Amazon, however, I have had some luck buying it at my local restaurant supply store.
Rose's Sweetened Lime Juice Now here is the thing, I would almost prefer fresh lime juice in this one, but because of the clarity in the park, I am almost certain they use Rose's Sweetened Lime Juice. If you want to cut back the sweetness a bit, skip this and put in fresh lime juice. Check out your local grocery store for this one, you typically can find it next to the grenadine, but if all else fails it is on Amazon.
Dry Sake Since we are bringing in a lot of added sweetness, I go for a dry sake, this will give you all the sake flavor without the addition of more sugar. I absolutely love Sake One, they are local to me here in Oregon, but just read the label and find yourself a sake marked dry.
Water Like a lot of in-the-park cocktails in Disney World this one also needs to be cut with water, you will see this over at Woody's Lunchbox with the Grown Up's Lemonade (shocking but true) just a few ounces will help loosen it and break up the thickness of the syrup.
Alright, so you know what it is, but where can you find it in EPCOT if you want to try the real thing? Head over to the Japan Pavilion, there you will find Garden House located right in the center in front of the stairs that lead up to Teppan Edo. I will say this, the hours are weird, so if you find it closed (or the line is super long) simply head up to the quick service Katsura Grill as they sell it too!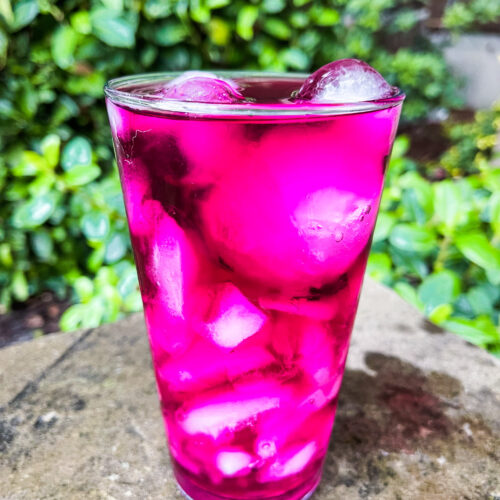 EPCOT's Violet Sake
Ingredients
4

oz

Dry Sake

1.5

oz

Monin Desert Pear Syrup

.5

oz

Rose's Sweetened Lime Juice

2

oz

water
Instructions
Combine all ingredients in a shaker, shake well, and serve over ice.

Top with a slice of fresh lemon for garnish.
I will be back every Friday with a new Disney World drink recipe. Be sure to let me know what drinks you want to see, and follow along on my Instagram stories so you can drink along with me! (I'll let you in on what ingredients you need to get every Monday so we can enjoy happy hour every Friday!

The links on this page may contain affiliate links and I receive a small commission if you chose to purchase from my link, at no cost to you.